NCSHA Washington Report | June 21, 2019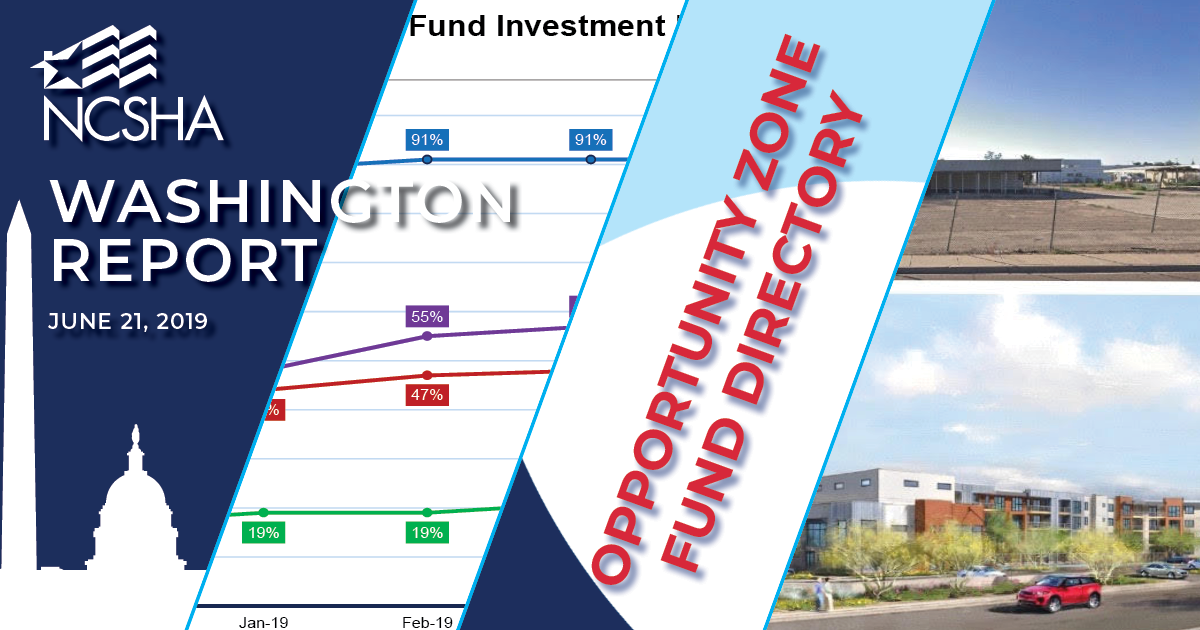 The considerable potential of Opportunity Zones (OZs) to generate new investment in affordable housing and communities that need it is coming quickly into focus.
NCSHA's newest Opportunity Zone Fund Directory indicates that 86 of the 143 announced Opportunity Zone funds list "community development" as an investment priority. The share of funds focusing on housing and neighborhood revitalization has jumped to 60 percent from 42 percent over the past six months.
Some, such as Boston Financial Investment Management, are aiming to attract OZ investment in Housing Credit-financed developments. The firm's Fred Copeman, speaking at NCSHA's Housing Credit Connect last week, suggested the addition of OZ-attracted gains to the Housing Credit capital stack could generate resources for resident services, reduce needs for construction debt, and broaden the base of investors in affordable housing.
Other OZ fund managers are raising money to deliver housing for workers whose incomes are too high to qualify for Housing Credit communities but too low to afford decent options close to their jobs. Financing has closed for workforce housing and mixed-income developments in OZs in Arizona, Ohio, Tennessee, and Utah in the past few months.
The Trump Administration has identified more than 160 federal programs "where targeting, preference, or additional support could be granted to Opportunity Zones" and already taken action on more than 50.
Last month, FHA announced a set of incentives ― reduced fees, faster underwriting — for multifamily housing development in OZs. The agency estimates the incentives will drive around $100 million in overall OZ activity. NCSHA this week submitted an extensive set of additional steps HUD could take, especially in reducing unnecessary regulation (see article below). This follows official comments NCSHA submitted to IRS in May on Opportunity Zone data collection and reporting requirements.
This week I participated in the National Governors Association's "State Summit on Opportunity Zones," which convened senior officials from more than 25 states, including Maryland DHCD Secretary and NCSHA Opportunity Zones Focus Group co-chair Ken Holt, for two days in Annapolis, MD, to exchange best practices. In addition to Maryland's leadership, I was able to point to the $50 million credit facility from Virginia HDA and strategic investments of Housing Credits by Mississippi HC and New Jersey HMFA as just a few examples of state HFA commitment to affordable housing in OZs.
While interest in individual housing developments and innovative financing structures is understandable, the promise of OZs transcends transactions. The full opportunity in the zones is, as the federal Economic Development Administration points out, "not only to enhance ROI for business interests, but also to encourage the public/private partnerships needed to drive private investment to distressed areas."
Nobody has a greater interest in that outcome, or ability to make it happen, than state HFAs.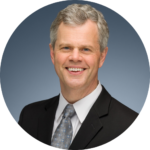 Stockton Williams | Executive Director
---
In This Issue
---
Connecticut HFA Appoints Smith Interim Executive Director
The Board of Directors of the Connecticut Housing Finance Authority (CHFA) has appointed Diane L. Smith as Interim Executive Director, effective June 21, with the departure of Karl Kilduff. Smith, who has been with CHFA since 2004, is currently the Director of Planning, Research, & Evaluation. Previously, she worked for the State Department of Economic and Community Development as Executive Director for the divisions of Urban Revitalization & Investment and Community & Housing Development.
WVHDF's Boggess Briefs Congressional Staff on Housing Bond Importance
Erica Boggess, Executive Director of the West Virginia Housing Development Fund (WVHDF), represented NCSHA and all HFAs June 14 during a congressional staff briefing on the importance of municipal bonds. Boggess explained how WVHDF and other HFAs use Housing Bonds to support housing opportunities for low- and moderate-income Americans. She noted that single-family Mortgage Revenue Bonds are often used to help borrowers with below-average income, which drew considerable interest from staff in attendance. The briefing was hosted by the Municipal Bonds for America coalition, of which NCSHA is a member.
NCSHA and ACTION Partners Brief Hill Staff as Cosponsorship Grows for Housing Credit Bill
Earlier today, NCSHA's Jennifer Schwartz and several ACTION Campaign partners participated in a congressional staff briefing at the Capitol Visitors Center. Tax and housing staff from offices on both sides of the aisle and in both chambers attended to learn about the Affordable Housing Credit Improvement Act (S. 1703/H.R. 3077). Already, 30 House members — 18 Democrats and 12 Republicans — have cosponsored H.R. 3077. While only the four original Senate lead sponsors are officially listed as cosponsoring S. 1703, more Senators have committed their support and will be listed as cosponsors shortly. Please reach out to your members of Congress and ask them to cosponsor these bills. Materials to help you make the case for cosponsorship are available in the ACTION Campaign's Advocacy Toolkit.
NCSHA Submits Comments to HUD on Investment Incentives in Opportunity Zones
On June 17, NCSHA submitted to HUD recommendations for how it could encourage affordable housing and community development investment in Opportunity Zones and other economically distressed areas, in response to HUD's Request for Information published April 17. NCSHA's letter incorporates a number of ideas for program changes that would simplify and streamline existing programs to make using them in OZs — and potentially on a national basis — easier.
ACTION Asks Senate Task Force to Extend Housing Credit Cap Increase, Include AHCIA
This week, the ACTION Campaign, the nationwide grassroots Housing Credit advocacy coalition co-chaired by NCSHA, submitted a statement to the Senate Finance Committee's Employment and Community Development Task Force, one of six task forces established by Committee Chairman Charles Grassley (R-IA) and Ranking Member Ron Wyden (D-OR) and charged with considering how to address expiring tax provisions. ACTION urged the Task Force to recommend that the Committee not only make permanent the 12.5 percent temporary Housing Credit cap increase but also further increase resources and strengthen the Housing Credit as proposed in the Affordable Housing Credit Improvement Act of 2019, S. 1703.
HUD and USDA Appropriations Bills Move in House
The House on Wednesday began consideration of a five-bill spending package ("minibus") that includes the FY 2020 HUD and USDA spending bills. This minibus also includes the FY 2020 spending bills for Commerce, Justice, and Science; Interior; and Military Construction and Veteran Affairs.
House staff expect floor consideration of this minibus to take several days as there are 290 amendments to debate. Housing-related amendments likely to pass would prohibit HUD from denying DACA recipients FHA-insured mortgages, bar HUD from using its funds to verify immigration status, and transfer $5 million from HUD's administrative and support offices account to the Homeless Assistance Grants program.
Republican-sponsored amendments, which are less likely to pass, include provisions to cut HUD and USDA funding and to eliminate or weaken Democratic measures to prohibit HUD from implementing proposed rules that would bar families with mixed immigration status from housing assistance and alter HUD's Equal Access Rule. NCSHA will report more on the minibus and housing-related amendments next week.
Financial Services Committee Passes Bills on Mixed-Status, Equal Access Rules; Senators Oppose HUD Proposals
On June 12, the House Financial Services Committee passed two bills blocking HUD from implementing recent proposals to bar families with mixed immigration status from housing assistance and to alter HUD's Equal Access Rule. The Keeping Families Together Act (H.R. 2763), introduced by Representative Sylvia Garcia (D-TX), would prohibit HUD from implementing a proposed rule that would terminate housing assistance for families with mixed immigration status. As NCSHA previously reported, HUD is seeking comments on the proposed rule until July 7.
The Ensuring Equal Access to Shelter Act (H.R. 3018), introduced by Representative Jennifer Wexton (D-VA), would block HUD from implementing a proposed rule to amend its Equal Access Rule and allow shelter providers to deny transgender and gender non-conforming people equal access to homeless shelters. The Committee advanced both bills by a party-line vote of 32–26. Read more in NCSHA's blog
Also on June 12, Senator Kirsten Gillibrand (D-NY) and 18 other Democratic Senators sent a letter to HUD opposing the agency's proposal to prohibit mixed-status immigrant families from living in public and other subsidized housing. Gillibrand introduced legislation June 19 that would prohibit HUD from implementing its proposal. On June 13, Senators Patty Murray (D-WA) and Sherrod Brown (D-OH) led a letter with 10 other Democratic Senators opposing and requesting additional information on HUD's proposal to amend the Equal Access Rule.
HUD Clarifies Policy on FHA Loans for DACA Borrowers
In a letter to Representative Pete Aguilar (D-CA), HUD Assistant Secretary for Congressional and Intergovernmental Affairs Len Wolfson said individuals who have registered under the Deferred Action for Childhood Arrivals (DACA) initiative are not eligible for Federal Housing Administration (FHA) insured loans. In the letter, Wolfson said FHA's Single-Family Handbook states, "Non-U.S. citizens without lawful residency in the U.S. are not eligible for FHA-insured mortgages." When DACA was established by the Department of Homeland Security (DHS), then-DHS Secretary Janet Napolitano declared DACA registration does not confer citizenship status. Consequently, according to Wolfson, DACA recipients are not eligible for FHA-insured loans.
Financial Services Committee Passes Bill to Require Federal Agencies, GSEs to Serve DACA Borrowers
On June 12, the House Financial Services Committee voted to advance the Homeownership for Dreamers Act (H.R. 3154), introduced by Representative Juan Vargas (D-CA). The bill prohibits FHA, Fannie Mae, Freddie Mac, and the U.S. Department of Agriculture from refusing to insure and/or guarantee a home loan solely on the basis of the borrower being registered under the Deferred Action for Childhood Arrivals (DACA) initiative. H.R. 3154 passed by a mostly party-line vote of 33–25, with all Committee Democrats and Republican Anthony Gonzalez of Ohio voting in support. FHA has said DACA recipients are not eligible for FHA-insured mortgages (see above). Fannie Mae recently released guidance stating it will guarantee loans for homes purchased by DACA recipients.
Comprehensive Flood Insurance Reauthorization Approved by Financial Services Committee
The House Financial Services Committee voted unanimously on June 12 to report the National Flood Insurance Program Reauthorization Act (H.R. 3167). The bill, which was introduced by Committee Chair Maxine Waters (D-CA) and Ranking Member Patrick McHenry (R-NC), reauthorizes the National Flood Insurance Program (NFIP) through FY 2024 and enacts several reforms, including creating a demonstration program to provide financial assistance to low-income policyholders, repealing certain program surcharges, and allowing policyholders to make monthly instead of annual payments.
The Committee also unanimously passed the National Flood Insurance Program Administration Reform Act (H.R. 3111). Introduced by Representative Nydia Velazquez (D-NY), this legislation reforms the process by which NFIP beneficiaries can appeal their insurance claims. It is not yet known when either bill will be considered by the full House of Representatives.
Financial Services Committee Advances Bills to Increase Affordability of FHA Loans
The House Financial Services Committee June 12 passed two bills designed to make FHA-insured mortgages less costly for borrowers. The Housing Financial Literacy Act(H.R. 2162), sponsored by Representative Joyce Beatty (D-OH), would reduce by 0.25 percent the upfront FHA insurance premiums for homebuyers who complete financial literacy counseling. The bill passed by a bipartisan vote of 53–6, with all Committee Democrats and all but six Republicans voting in support.
The FHA Loan Affordability Act (H.R. 3141), sponsored by Representative Dean Phillips (D-MN), would repeal the requirement that FHA borrowers pay mortgage insurance premiums for the life of their insured loans. H.R. 3141 passed 34–25, with all Democrats voting in support, and all Republicans, except for Bill Posey of Florida, voting against. It is not known when either bill will be considered by the full House of Representatives.
Representatives Higgins and Kelly Introduce Neighborhood Homes Investment Act
Representatives Brian Higgins (D-NY) and Mike Kelly (R-PA) introduced the Neighborhood Homes Investment Act (H.R. 3316) Wednesday. H.R. 3316 would create a new federal income tax credit for investment in the development and rehabilitation of affordable owner-occupied homes for low-income buyers/homeowners. States would allocate these credits, worth about $1 billion annually nationwide, to proposed projects on a competitive basis through annual allocation plans. The credits would be allocated to projects within census tracts with low- or moderate-incomes, high poverty, and low home prices. The bill has strong support from the industry, including NCSHA. Read the summary of H.R. 3316.
Senators Introduce Bill to Establish an Affordable Housing Task Force
On June 12, a bipartisan group of senators led by Todd Young (R-IN) introduced the Task Force on the Impact of the Affordable Housing Crisis Act (S. 1772), which would establish a Task Force to analyze and address America's affordable housing crisis. The Task Force would examine the consequences of the shortage of affordable housing; quantify the costs incurred by federal, state, and local housing programs; and develop recommendations to Congress for best practices in effectively utilizing affordable housing. Senators Maria Cantwell (D-WA) and Angus King (I-ME) joined Young as lead sponsors of the bill, summarized here. Currently, the legislation has 15 cosponsors and is supported by more than 70 organizations.
FHFA Report Requests New Authorities, Urges Congress to Pass GSE Reform
When the Federal Housing Finance Agency (FHFA) released its 2018 Report to Congress last week, Director Mark Calabria included in the transmittal letter a request that Congress grant the agency new authorities to help it better regulate the secondary housing finance market. Calabria urged Congress to act quickly on housing finance reform, allow FHFA to charter new government-sponsored enterprises to compete with Fannie Mae and Freddie Mac, give FHFA the authority to examine third-party entities that do business with Fannie Mae and Freddie Mac, and grant FHFA more flexibility to establish capital and leverage standards. More details are available in NCSHA's blog.
NLIHC Report Documents Affordability Challenges
The National Low Income Housing Coalition (NLIHC) on Tuesday released the 30th anniversary edition of its "Out of Reach" report, documenting housing affordability challenges by comparing wages and rents throughout the country. According to "Out of Reach 2019," a full-time worker in the United States must earn on average $22.96 per hour to afford a modest two-bedroom apartment at the fair market rent and $18.65 for a modest one-bedroom apartment. The report also finds that a full-time minimum-wage earner needs to work 127 hours per week (more than three full-time jobs) every week of the year to afford a modest two-bedroom rental home and 103 hours per week (two-and-a-half full-time jobs) for a modest one-bedroom apartment. NLIHC's Out of Reach website includes the report as well as state-specific data.
MBA Establishes Affordable Housing Initiative
The Mortgage Bankers Association (MBA) announced last week it has created an initiative to advance affordable housing solutions through policy and business partnerships. MBA believes the initiative will provide a better understanding of the affordable housing issues afflicting the country by linking lenders, policymakers, community leaders, and other stakeholders through a shared platform. The initiative will focus on providing more affordable homeownership and rental opportunities for underserved communities. MBA's Steve O'Connor, currently the Senior Vice President for Public Policy and Industry Relations, will lead the initiative as Senior Vice President for Affordable Housing Initiatives.
Habitat for Humanity Announces Housing Affordability Campaign
Habitat for Humanity launched June 12 its first advocacy campaign, Cost of Home, to increase housing affordability through policy changes at the federal, state, and local levels. The campaign platform centers around four core housing affordability issues: increasing supply, ensuring equitable access to credit, optimizing land use for affordable homes, and ensuring access to and development of communities of opportunity. Over the next five years, Habitat aims to mobilize local Habitat affiliates, partners, volunteers, and community members across the country to find the solutions and help create the policies that will give 10 million individuals access to affordable homes.
NCSHA in the News
Developers Create Opportunity Zone Fund for Assisted Living Project (Senior Housing News)
What Is an HFA Loan? (Bankrate.com)
Legislative and Regulatory Activities
NCSHA, State HFA, and Industry Events
June 24 | National Development Council Webinar on the Status of Congressional Housing and Community Development Initiatives

Jennifer Schwartz will speak.

June 25 | State of the Nation's Housing Report Release | Atlanta and Webcast | Noon ET
June 26 – 27 | Housing Policy Council Annual Meeting | Washington, DC

Susan Dewey (Virginia Housing), Chrystal Kornegay (MassHousing), Ralph Perrey (THDA), and Stockton Williams will speak at this event.

July 23 | Morgan Stanley Housing Issuer and Investor Summit | New York, NY

Stockton Williams will participate.

August 1 – 4 | The Housing Renaissance | San Diego, CA

Stockton Williams will participate.

August 12 – 14 | U.S. Bank Home Mortgage HFA Symposium 2019 | Minneapolis, MN

Stockton Williams will participate.