NCSHA Washington Report | December 6, 2019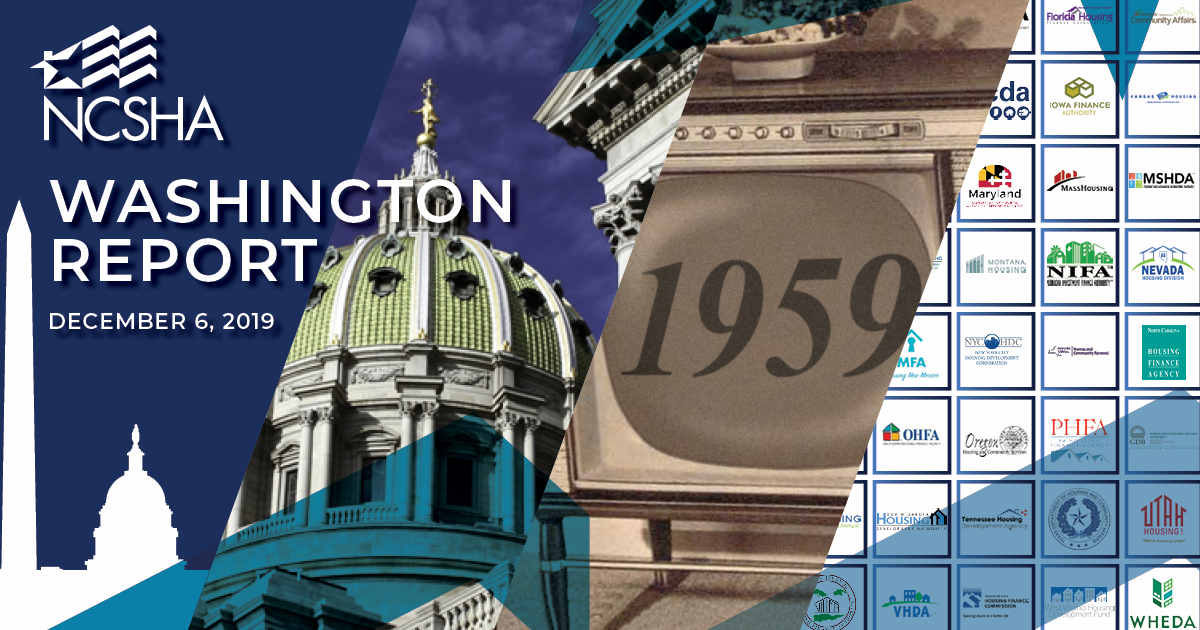 Sixty years ago this week, the Pennsylvania state legislature enacted the Pennsylvania Housing Agency Law, the "first legislative response to the perceived need for state intervention in private-sector housing development." The state HFA as we know it was born.
New York was first to operationalize the idea, the following year, through the creation of the New York State Housing Finance Agency. The state had been issuing tax-exempt general obligation bonds to finance middle-income apartments since the mid-'50s. The New York State HFA began to issue bonds for affordable housing backed by the legislature's commitment — a "moral obligation" — to make up for any shortfalls in reserves needed to meet debt service requirements.
Nine states followed Pennsylvania and New York's lead and created state HFAs during the 1960s: Connecticut, Delaware, Illinois, Maine, Massachusetts, Michigan, Missouri, New Jersey, and West Virginia.
Some created HFAs in response to the riots that swept through hundreds of American cities in those years, leaving "many black urban neighborhoods … in ruins." President Johnson's Kerner Commission — chaired by Illinois Governor Otto Kerner, whose own task force in his state in 1965 led to the creation of the Illinois Housing Development Authority — identified inadequate housing, along with unemployment and abusive police practices, as a central cause of the unrest.
The commission recommended creation of six million affordable low- and moderate-income units over five years and a central role for the private sector in financing it. The Housing and Urban Development Act of 1968 adopted the commission's goal (over a longer period) and its recommendation of new federal investment in development.
Section 236 of the law made housing "financed under a state or local program" eligible for a federal subsidy. State HFAs would finance roughly 120,000 Section 236 units during the program's formative years. By the end of the '60s, state HFAs were also providing low-cost construction and permanent financing through HUD's Section 221(d)(3) and 202 programs.
State courts also played a role in the development of the HFA model. The key issue was establishing housing, including homes for "moderate- " or "middle-income" families, as a legitimate public purpose. A New Jersey case decided in 1970 affirmed the principle there and, in the view of one analyst, "represented the culmination of more than 10 years of development of judicial concepts concerning state housing agencies."
By then, the pioneering states had established the defining features that still characterize state HFAs: ability to provide financing at scale with their own resources, capacity to leverage and protect federal investment, commitment to meet the full spectrum of their states' affordable housing needs.
In the '70s, the number and impact of state HFAs would explode. They would confront challenges to their very existence in the economy and the capital markets. They would face major threats in federal policy and create a professional trade association to overcome them. Those developments will be the subject of a future column.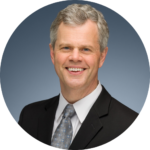 Stockton Williams | Executive Director
---
In This Issue
---
NCSHA, HFAs Participate in FHFA Duty-to-Serve Listening Sessions
On December 2, NCSHA's Garth Rieman urged the Federal Housing Finance Agency (FHFA) and the Government-Sponsored Enterprises (GSEs) it regulates, Fannie Mae and Freddie Mac, to increase the GSEs' Housing Credit investments in rural areas and other Duty-to-Serve markets, including for affordable housing preservation. Rieman was participating in FHFA's third listening session on its Duty-to-Serve rule, where stakeholders were invited to provide input on the GSEs' plans to develop new Underserved Market Plans for 2021 – 2023. Rieman also suggested that the GSEs further partner with HFAs to support homeownership lending in rural areas and manufactured housing lending and that FHFA amend the Duty-to-Serve rule to make it easier for them to get credit for purchasing Housing Bonds. California Housing Finance Agency's Francesc Marti made similar requests during a previous listening session in Los Angeles.
Representatives from Alabama Housing Finance Authority and Minnesota Housing are expected to participate in FHFA's last listening session, to be held via webinar on December 11.
Cosponsorship for House Housing Credit Bill Surpasses Support in Last Congress
The Affordable Housing Credit Improvement Act was introduced just six months ago, but the House version of the bill, H.R. 3077, now has more cosponsors than the previous version had in the last Congress after nearly two years of cosponsorship effort. Thirteen House members became cosponsors this week, bringing total support to 190 — seven more cosponsors than the bill had in the 115th Congress. Much of this success is due to the diligent work of state HFAs engaging with their members and making the case for why this bill is essential. This week, several HFA executive directors and federal liaisons came to DC to advocate not only for new cosponsors but to ask existing cosponsors to urge leadership to include the Housing Credit legislation in end-of-year tax legislation. Negotiations over year-end tax legislation are happening now, and the stakes couldn't be higher. Keep reaching out. Follow up. Please let NCSHA's Jennifer Schwartz know how your members respond.
HUD Asks NCSHA for Deregulation Proposals
As part of the White House Council on Eliminating Regulatory Barriers to Affordable Housing, HUD is seeking public comment on federal, state, local, and tribal laws, regulations, land requirements, and practices that artificially raise the cost of affordable housing development and contribute to shortages in housing supply. HUD has specifically asked NCSHA for input, not only on HUD regulatory concerns but also on regulatory reforms to the Housing Credit and Housing Bonds. While the formal comment period requires response by January 21, HUD has asked NCSHA to expedite its comments. NCSHA will submit comments directly to HUD's General Counsel by the end of this month. If you have feedback you would like us to include, please contact Jennifer Schwartz by Friday, December 13.
OCC Expected to Propose CRA Reforms Next Week
Leaders in the Office of the Comptroller of Currency (OCC) continue to forecast proposed changes to its regulations governing banks' responsibilities under the Community Reinvestment Act (CRA) late next week, likely on December 12 or 13. The OCC has been working this year with the other banking regulators, the Federal Deposit Insurance Corporation (FDIC) and the Federal Reserve, on developing a common proposal. At this time, it appears the Federal Reserve will not join OCC's proposal but FDIC might. NCSHA will closely study OCC's proposed rule to determine its impact on bank incentives to invest in affordable housing, particularly in Housing Credits and Housing Bonds, and to participate in HFA programs.
Montgomery Tells Housing Subcommittee He Is Not Concerned About State HFA DPA Programs
The Federal Housing Administration (FHA) is not concerned about state and local HFA down payment assistance (DPA) programs, FHA Commissioner Brian Montgomery told the House Housing, Community Development, and Insurance Subcommittee during a hearing yesterday afternoon. Montgomery was responding to a question from Rep. John Rose (R-TN), who expressed concern that expected FHA rulemaking on government entity DPA programs could negatively impact state HFAs. Subcommittee Chair William Lacy Clay (D-MO) also asked Montgomery about the upcoming rulemaking, expressing concern that FHA could make it more difficult for consumers to obtain important DPA. Montgomery said FHA's intent is to make sure such programs follow FHA rules and clearly provide a financial benefit to the borrower. Clay also expressed disappointment about HUD's decision to terminate the Federal Financing Bank multifamily risk-sharing initiative with FHA and HFAs.
FHFA Increases GSE Conforming Loan Limits
FHFA last week announced new conforming loan limits for mortgages acquired by Fannie Mae and Freddie Mac for 2020. For much of the U.S., the maximum conforming loan limit for one-unit properties will rise from $484,350 to $510,400, an increase of nearly 5.5 percent. FHFA based the loan limit increase on the average U.S. home value over the past four quarters. For high-cost areas, where 115 percent of the local median home value exceeds $510,400, the maximum loan limit will be $765,600. Alaska, Hawaii, Guam, and the U.S. Virgin Islands will have the same baseline loan limit as high-cost areas for one-unit properties ― $765,600 ― due to special statutory requirements.
FHA Announces Increased Single-Family Loan Limits for 2020
This week, FHA announced the county loan limits for its single-family mortgage insurance programs for 2020 and issued a Mortgagee Letter that increases the minimum loan limit for low-cost areas and the maximum loan limit for high-cost areas. FHA currently sets the loan limit for most counties at 115 percent of the county's median home price. Mortgages that exceed the limit are not eligible for FHA insurance. The low-cost limit, for counties where the median home price is 65 percent or less of FHFA's conforming loan limit, will increase to $331,760 from $314,827. The high-cost loan limit, for counties where the median home price reaches or exceeds 150 percent of the conforming loan limit, will increase to $765,600 from $726,525. The loan limits will increase for all but 11 jurisdictions in 2020. You can search for loan limits by county here. More information is available in NCSHA's blog.
CFPB to Consider Allowing Lenders to Adjust Compensation for HFA Loans
Late last month, the Consumer Financial Protection Bureau (CFPB) published its Fall 2019 Regulatory Agenda. For the first time, the agenda includes a review of the Loan Originator Compensation rule, which governs how lenders can compensate loan officers for the loans they originate. One possible change CFPB intends to explore is whether to allow lenders to pay loan officers a different level of compensation for originating HFA program loans, which the rule currently prohibits. Some lenders, and some HFAs, have argued that, because lenders cannot currently differentiate compensation between HFA loans, they are less likely to participate in HFA loan programs. NCSHA has previously asked CFPB to consider allowing lenders to pay loan officers a different level of compensation for HFA loans.
NCSHA in the News
With Housing Credit Expansion, Congress Could Address the Affordability Crisis (Affordable Housing Finance)
The National Council of State Housing Agencies Released Updated Model Forms (Novogradac Property Compliance News Briefs)
Legislative and Regulatory Activities
NCSHA, State HFA, and Industry Events
December 9 | Early Registration and Hotel Group Rate Cutoff | NCSHA's HFA Institute 2020
December 17, 2:00 p.m. ET | Webinar: Housing Experts Share Insights into Opportunity Zone Investments for Affordable Homes | Hosted by NCSHA and EIG
January 12 – 17 | NCSHA's HFA Institute 2020 | Washington, DC
January 29 – 30 | Affordable Housing Tax Credit Coalition Annual Conference | Laguna Beach, CA
Jennifer Schwartz will speak at this event.
March 9 – 11 | NCSHA Legislative Conference | Washington, DC
Back to NCSHA Washington Report
Only members receive NCSHA Blog and Washington Report.