NCSHA Washington Report | February 26, 2021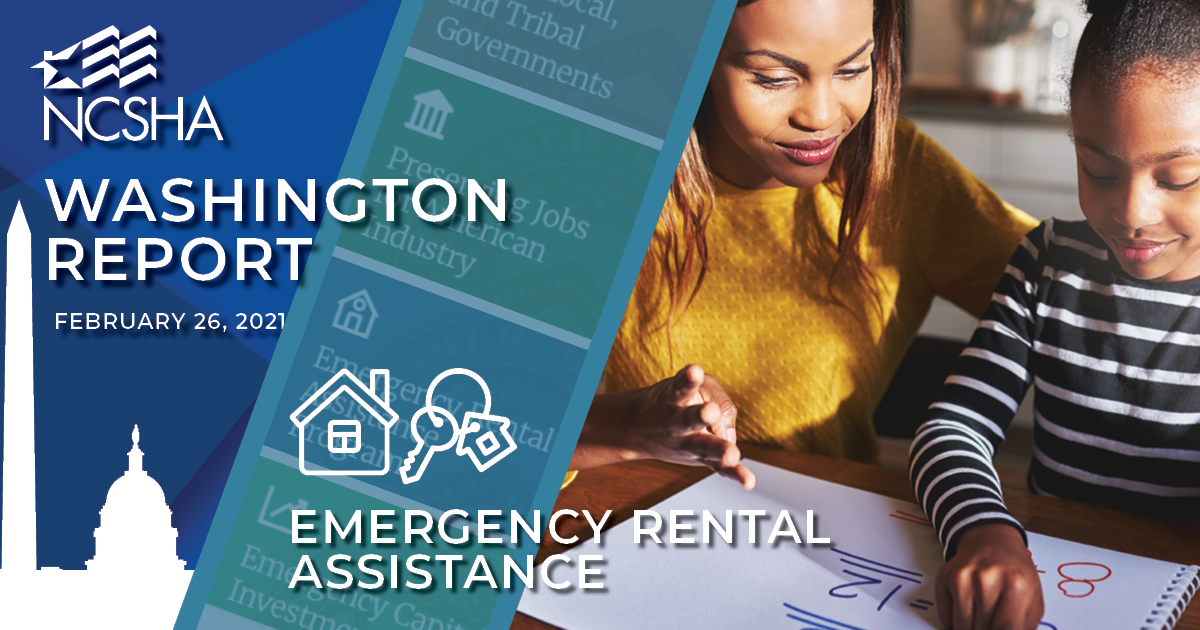 One of the most important new federal affordable housing initiatives in a generation, the $25 billion Emergency Rental Assistance program, is starting to get urgently needed help to low-income renters around the country.
For millions of them, on the frontlines of the pandemic for nearly a year, the assistance can't come soon enough. The accelerating deployment of this emergency aid is all the more important in light of new uncertainty surrounding the CDC's nationwide eviction moratorium.
The ERA program became law in the very last days of 2020 and in the middle of a federal government transition. The Trump Administration acted quickly with a skeletal staff to move the federal funds into state and local accounts under the statutory formula — no small feat — but didn't provide sufficient program guidance to allow many jurisdictions to get started.
This week, the Biden – Harris Administration released rules that should allow most jurisdictions to do so soon. The new guidance, laid out by the Treasury Department, is highly responsive to the practical realities facing the states, localities, and tribes that will implement the ERA program. It reflects the experience and recommendations of jurisdictions that scrambled to create emergency programs with other funds last year, including 36 state HFAs.
The Treasury rules provide considerable flexibility to agencies administering the money in their communities. In return, they require every administrator to develop and document the practices and protections to ensure ERA delivers the help as Congress intended.
That's essential, because $25 billion managed well can do a lot of good — and because more is likely on the way. The $1.9 trillion relief bill congressional Democrats are moving to send to President Biden in the next several weeks includes another $20 billion for the program (plus $10 billion in emergency homeowner aid and several other important housing provisions).
Several state programs have been up and running for a week or so. "We are overwhelmed with more demand than expected and many folks facing imminent utility shutoffs," one official told us. The story is similar elsewhere: heavy application volume for help with both back rent and utility bills, especially from unemployed and very-low income renters.
By law, states will administer at least 55 percent of the $25 billion in ERA funds appropriated to date. In practice, the amount will likely be significantly higher, as some localities eligible for a direct allocation have decided or will eventually decide to have the state administer their share.
NCSHA is supporting every state's efforts to deliver federal emergency rental assistance. Our program advice for state administrators, our online portal to state programs, our regular calls with state program administrators, and our daily outreach to the administration and Capitol Hill are all designed with one purpose: to help states make the most of truly a precious resource.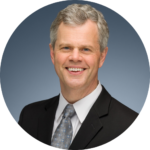 Stockton Williams | Executive Director
State HFA Emergency Housing Assistance
---
In This Issue
---
Boatman Patterson Joins White House Office of Management and Budget
Tia Boatman Patterson has stepped down as executive director of the California Housing Finance Agency to join the White House Office of Management and Budget (OMB) as the associate director for Housing, Treasury, and Commerce, the OMB division that develops and oversees the budgets for multiple departments, including the Department of Housing and Urban Development and the Small Business Administration. In her new role, Boatman Patterson will oversee about $90 billion in discretionary resources and $3 trillion in loans and loan guarantees for multiple federal agencies and essential functions, from affordable housing, to tax collection, weather prediction, and trade. Boatman Patterson was president of the NCSHA Board from 2018 – 2020.
California Governor Gavin Newsom has named Don Cavier as acting executive director of CalHFA until a permanent replacement is appointed. Since 2015, Cavier has served as chief deputy director under Boatman Patterson.
NCSHA Asks IRS, Treasury for Guidance on Minimum 4 Percent Rate and Disaster Credits
This week, NCSHA sent a letter to the Internal Revenue Service and the Department of the Treasury urging them to provide guidance on implementation of the minimum 4 percent credit rate and supplemental disaster Housing Credit authority, both enacted under the Consolidated Appropriations Act of 2021. On the minimum 4 percent rate, NCSHA requested clarification on whether buildings financed by tax-exempt bonds issued in 2020 and 2021 are eligible for the minimum credit rate, whether a project for which volume cap authority was initially issued in 2020 would qualify for the minimum credit rate if it makes a draw against that bond authority in 2021, and whether a previous election to fix the credit rate remains in force or if the new minimum rate supersedes such previous election. On disaster credits, NCSHA requested clarification on the population of each qualified disaster zone, the designation procedure required for state agencies to provide extension of 10 percent test or placed-in-service deadlines, and the ability of states to reallocate returned disaster credits in subsequent years. NCSHA also urged revision of various IRS forms to facilitate reporting of both provisions.
New Treasury Emergency Rental Assistance Program Guidance Reflects Most NCSHA Recommendations
This week, the Treasury Department published a revised Frequently Asked Questions (FAQs) document providing guidance to grantees administering the Emergency Rental Assistance (ERA) program. Treasury's revisions to its FAQs are consistent with nearly every recommendation NCSHA made in its January 25 letter raising concerns it and several other housing groups had about FAQs Treasury published before the current administration took office. Among the recommendations NCSHA made and Treasury adopted is one allowing applicants to self-attest to eligibility for assistance, which HFA ERA grantees generally consider essential to serving households who would not be able to provide source documentation proving their eligibility. For more information about the FAQs, including the other critical changes Treasury made, see NCSHA's blog.
House in Final Stages of Advancing COVID-19 Relief Legislation; Senate Readies for Action
The House of Representatives is taking the final steps to pass President Biden's COVID-19 relief legislation, the American Rescue Plan Act of 2021. The House Rules Committee, as of this writing, is marking up the bill. Passage in the Rules Committee is the last step before floor consideration, which could happen as soon as this evening. The Senate is also taking steps to act on the House bill as soon as possible to help enact it by March 14. Because the bill is moving through a budgetary procedure called reconciliation, and can thus pass with a simple majority vote, it must also meet certain requirements. The Senate parliamentarian determines whether individual provisions of the bill adhere to those requirements and this week has been hearing arguments by Senate staff experts on the budget process for and against the inclusion of individual provisions under reconciliation rules. Look for an NCSHA blog after the House passes the legislation with details on key housing programs included in the legislation, including the Homeowner Assistance Fund, additional Emergency Rental Assistance, and homeless assistance funding through the HOME program.
FHFA Extends Enterprise Foreclosure and Eviction Moratoriums
The Federal Housing Finance Agency (FHFA) announced Thursday it was aligning the Fannie Mae and Freddie Mac moratoriums on single-family foreclosures and real estate owned (REO) evictions with those of the Federal Housing Administration, U.S. Department of Agriculture, and the Veterans Administration by extending the current moratoriums until June 30. Additionally, FHFA announced that borrowers with mortgage loans backed by Fannie Mae or Freddie Mac may be eligible for an additional three-month extension of a COVID-19 forbearance, increasing the total number of months to 18. To be eligible, borrowers must be in a COVID-19 forbearance plan as of February 28. Also, COVID-19 payment deferrals for borrowers with Enterprise-backed single-family mortgages can now cover up to 18 months of missed payments. Details are available in Fannie Mae's updated Lender Letter LL-2021-02 and Freddie Mac's Lender Bulletin 2021-8.
CDFI Fund Announces Funding for HFAs, Others and New Money Available for COVID-19 Relief
Treasury's Community Development Financial Institution (CDFI) Fund announced Monday it provided $175.35 million to 48 organizations — including five HFAs — through the FY 2020 round of the Capital Magnet Fund. Grantees will use these funds to develop affordable housing and community facilities in low-income areas. Grantee applications estimate that 97 percent of the planned 23,000 affordable rental and homeownership units built, preserved, or rehabilitated with the funds will be for families making 80 percent of area median income or below. HFAs receiving awards are the Colorado Housing and Finance Authority, Connecticut Housing Finance Authority, MassHousing, New Mexico Mortgage Finance Authority, and Rhode Island Housing.
The CDFI Fund also announced this week the availability of $1.25 billion under its Rapid Response Program to help CDFIs address economic hardships created by the pandemic. Applications must be submitted by March 25.
HUD Encourages Rental Owners and Managers to Refer Tenants to Housing Counselors
HUD's Office of Counseling held a webinar this week to discuss the availability and benefits of rental housing counseling. The webinar, which featured representatives from HUD, owners, and counseling agencies, described how tenants can obtain information about financial management, payment assistance, budgeting, financial literacy, and homeownership education from HUD-supported counseling agencies. Several HFAs serve as intermediaries using HUD funds to support local counseling agencies. A recording of the webinar will be available here sometime next week.
EIG Report Takes Stock of Opportunity Zones Three Years After Passage
Earlier this week, the Economic Innovation Group released a report exploring Opportunity Zone (OZ) economic activity in low-income communities over the past three years. The report found that, since the OZ incentive was passed into law in December 2017 and final regulations were promulgated in December 2019, a wide range of investments are utilizing OZ financing to deliver capital to communities often overlooked by investors. The report concludes that more could be done on the administrative and legislative fronts — including establishing OZ reporting requirements and modifying substantial improvement requirements to better facilitate affordable housing development — to ensure the OZ incentive reaches its full potential.
NCSHA in the News
Spartanburg Herald Journal: The Upstate got over $6 million in SC Stay rental assistance. Here's how you can get help.
Legislative and Regulatory Activities
NCSHA, State HFA, and Industry Events
March 8 – 11 | National Affordable Housing Management Association Winter Conference | Virtual
Jennifer Schwartz will speak at this event.
March 12 | Discounted Early Registration Closes | NCSHA's 2021 Legislative Conference
March 15 – 17 | 2021 Illinois Affordable Housing Forum | Virtual
Stockton Williams will speak at this event
March 15 | National Rural Housing Council Board Meeting | Virtual
Jennifer Schwartz will speak at this event.
March 22 – 24 | NCSHA's 2021 Legislative Conference | Virtual
May 20 | "Down Payment Assistance — The First Step to Increasing Black Homeownership" | New American Funding – Freddie Mac Webinar
Stockton Williams will speak at this event.
Back to NCSHA Washington Report
Only members receive NCSHA Blog and Washington Report.