NCSHA Washington Report | April 19, 2019
Congress and the Administration remain at an impasse over funding for disaster recovery efforts in Alabama, California, Florida, Georgia, Iowa, Nebraska, North Carolina, Puerto Rico, South Carolina, the Virgin Islands, and other U.S. territories.
As a result, "Far too many families are living in tents, sleeping in cars, doubling or tripling up with other low-income families, or paying more than half of their incomes on rent, putting them at increased risk of evictions and homelessness," according to the National Low Income Housing Coalition.
Yet even if a political solution to the current stalemate is achieved soon, the policy challenges in dealing with the housing impacts of disasters are daunting.
As a recent report by the Government Accountability Office documented, Congress' failure for years to provide permanent statutory and regulatory authority to HUD for Community Development Block Grant Disaster Recovery appropriations "requires HUD to customize grant requirements for each disaster in Federal Register notices — a time-consuming process that has delayed the disbursement of funds."
Meanwhile, local officials have argued that FEMA's policies leave out low-income communities, while some research suggests they may even exacerbate wealth inequality. And as Texas Land Commissioner George P. Bush pointed out earlier this month, "Many disasters do not actually meet the threshold to receive any federal recovery funds."
While federal policy founders, economic forces and market valuations are moving with increasing velocity. Homes determined vulnerable to flooding in Florida, Georgia, North Carolina, South Carolina, and Virginia lost $7.4 billion in value between 2005 and 2017, according to a study published last year by First Street Foundation.
Axios reported this week that, "Some of the biggest names on Wall Street are partnering with climate science groups to produce the first countrywide, property-level maps [that] are so granular that they can pick out individual commercial buildings and electric power stations, and thus advise investors about the potential impact to their specific assets across the decades through the end of the century."
One of them, BlackRock, the largest asset manager in the world, believes, "Within a decade, more than 15% of the current S&P National Municipal Bond Index by market value would come from [metro areas] suffering likely average annualized economic losses from climate change of up to 0.5% to 1% of GDP."
Given what GAO calls "the expected increase in the frequency and intensity of extreme weather events," the country's present policies are increasingly inadequate.
State HFAs are positioned to play a central role in a more holistic and responsive system that delivers a state-determined mix of emergency shelter, rental assistance, home repair, and housing rebuilding tools. Meeting the urgent needs of recently impacted states to receive the funding Congress already approved should be just the first step toward a new national vision for disaster housing recovery.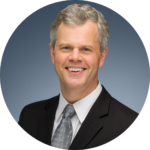 Stockton Williams | Executive Director
---
In This Issue
---
White House Publishes Opportunity Zone Implementation Plan
In conjunction with a White House conference on Opportunity Zones that Stockton Williams attended, the White House Opportunity and Revitalization Council (Council) published an Implementation Plan this week outlining to President Trump a detailed work plan for how the Council — chaired by U.S. Department of Housing and Urban Development (HUD) Secretary Ben Carson — will accomplish the goals specified in the executive order establishing the Council last December. (A video of the White House conference is available here. At the event, President Trump delivered remarks and recognized the Mississippi Home Corporation for its efforts to promote housing development in Opportunity Zones.) The White House also released a fact sheet about Opportunity Zones that cites NCSHA's Opportunity Zones Directory.
The Implementation Plan describes the strategy to implement administrative reforms and initiatives that will target, streamline, coordinate, and optimize federal resources in economically distressed communities, including Opportunity Zones. The Council has already identified 160 programs that could increase targeting to Opportunity Zones through grant preference points, loan qualifications, reduced fees, and eligibility criteria modifications. To inform its actions, goals, and deliverables, the Council and its Executive Director, Scott Turner, will conduct listening tour sessions of rural, urban, and suburban Opportunity Zones and other distressed communities this spring and summer. The Council is also developing "OpportunityZones.gov" — a website to provide community leaders, entrepreneurs, and investors with a common point of reference for all available Opportunity Zone resources.
FHA Issues Mortgagee Letter on Government Entities DPA Programs
The Federal Housing Administration (FHA) issued April 18 a Mortgagee Letter on government entities operating in their governmental capacity when providing down payment assistance. Under the letter, a mortgagee must now properly document that an HFA or other government entity funding down payment assistance for an FHA-insured mortgage is legally authorized to provide such assistance in the area in which the home is located. Also, within two years of the mortgag­­­­e being closed, the mortgagee must receive a legal opinion from the government entity that funded the down payment assistance stating that the home being purchased is located within the entity's legal jurisdiction. The new requirements apply immediately to all loans assigned an FHA case number as of April 18.
Ruppersberger and Stivers Extend Deadline for Municipal Bond Support Letter Through Congressional Recess
House Municipal Finance Caucus co-chairs, Representatives Dutch Ruppersberger (D-MD) and Steve Stivers (R-OH), have decided to accept congressional signatures for the letter they are circulating in support of tax-exempt municipal bonds until April 29. Please encourage your members to sign the letter, which will be sent to the Chair and Ranking Member of the Ways and Means Committee. Currently, 90 House members have signed. The Municipal Finance Caucus has spearheaded similar sign-on letters in the last several Congresses, which have garnered significant support from both sides of the aisle. The current list of Representatives who have signed on is available on NCSHA's website.
Treasury Department Releases Additional Opportunity Zone Guidance
The Treasury Department released a highly anticipated second set of proposed regulations April 17 providing guidance on Opportunity Zone provisions of Internal Revenue Code section 1400Z-2. The regulations clarify certain issues addressed in the first set of proposed regulations last October and provide additional guidance on significant new issues. The guidance provides more flexibility in structuring Opportunity Zone investments and greater clarity on several issues impacting real estate development, affordable housing, and economic development. NCSHA will submit comments on these proposed regulations during the 60-day comment period. Please send your comments to Jim Tassos by May 17. For more information, refer to NCSHA's blog.
Treasury Department Requests Information on Opportunity Zone Data Collection
Concurrent with publication of new proposed regulations on Opportunity Zones, the Treasury Department published a Request for Information (RFI) to seek public input on the development of information collection and tracking related to Opportunity Zone investments. In the RFI, Treasury notes the purpose of information collection and tracking is to measure the effectiveness of the Opportunity Zone policy in achieving its stated goals and to ensure the investment remains an attractive option for investors. The RFI suggests potential revisions to IRS Form 8996, used to certify that a corporation or partnership is a Qualified Opportunity Fund and to annually report whether the fund met the investment standard during its tax year. NCSHA will respond to this RFI during the 30-day comment period. Please send your comments to Jim Tassos by May 3.
HUD Solicits Ideas on Supporting Opportunity Zones
HUD announced April 12 that it is seeking public input on how it can use its existing authority to maximize the beneficial impact of Opportunity Zones. The Request for Information asks for recommendations on using public and private investments in urban and economically distressed communities, including Qualified Opportunity Zones. NCSHA has already been developing a set of recommendations in this area and will respond to this request. The deadline for comments is June 17. Please send your comments and suggestions to Garth Rieman by May 15. More information is available in NCSHA's blog.
HUD Announces FY 2019 Allocations for HOME, HTF, and Other Grant Programs
This week HUD posted full-year allocations for the Office of Community Planning and Development's (CPD) formula programs, including HOME Investment Partnerships (HOME), Housing Trust Fund (HTF), Community Development Block Grants (CDBG), Housing Opportunities for Persons with AIDS (HOPWA), and Emergency Solutions Grants (ESG). The new allocations for HOME, CDBG, HOPWA, and ESG reflect the funding provided in the Fiscal Year (FY) 2019 final appropriations bill that Congress approved in February. The HTF state allocations reflect the $244.9 million in funding that the Federal Housing Finance Agency (FHFA) two weeks ago authorized Fannie Mae and Freddie Mac to transfer to HUD. Please see NCSHA's updated charts for HOME and HTF allocations by state and year.
HUD Publishes New Recovery Housing Allocation Formula
HUD on April 17 published in the Federal Register a new formula to allocate funds to states for providing stable, temporary housing to individuals in recovery from substance abuse disorders, as enacted by the SUPPORT for Patients and Communities Act (SUPPORT Act) in October 2018. The legislation required that HUD establish a funding formula, but no funds have yet been appropriated for this program. The Federal Register notice says HUD will first limit the number of states eligible to receive this funding to those that, according to the latest national data, have an age-adjusted rate of drug overdose deaths above the national average. Pursuant to the SUPPORT Act and HUD's formula, state-by-state funding allocations are based on the age-adjusted rate of drug overdose deaths, unemployment, and labor force participation. The Federal Register notice includes a table listing the results of its formula using current data.
Calabria Delivers First Remarks to FHFA Employees; Names Marzol Deputy
At a formal swearing-in ceremony on Monday, new Federal Housing Finance Agency (FHFA) Director Mark Calabria delivered remarks to agency employees and invited guests, including NCSHA's Stockton Williams. Calabria told those assembled that the housing finance system remains "vulnerable" and that more must be done to reform the housing finance system to guard against taxpayer losses and help more Americans access affordable housing. Calabria said his foremost objectives will be to lock in and build on the progress FHFA has made in establishing itself as a capable regulator.
The next day, FHFA announced Adolfo Marzol will serve as Calabria's deputy. Marzol most recently worked as a senior advisor to HUD Secretary Ben Carson and has also held a variety of mortgage finance positions in the private sector, including senior roles at Fannie Mae.
Kraninger Outlines Vision for CFPB
Consumer Financial Protection Bureau (CFPB) Director Kathleen Kraninger outlined her vision for CFPB during a speech at the Bipartisan Policy Center on Wednesday. Kraninger, who started at CFPB in December, indicated CFPB will focus more on preventing consumer harm through education and outreach and put less emphasis on enforcement. To this end, she announced that CFPB will soon launch an initiative to educate consumers about the importance of building up savings. CFPB will also hold a series of symposia over the next few years to examine various policy issues related to its mission. With regard to CFPB regulations, Kraninger said she is committed to a transparent and deliberate rulemaking process and "CFPB must acknowledge that the costs" of regulation can harm consumers' access to credit. Watch Kraninger's speech.
NHC Releases 2018 Paycheck to Paycheck Report and Database
On April 16, the National Housing Conference (NHC) released its 2018 Paycheck to Paycheck report and a database highlighting housing affordability challenges for workers in 81 occupations living in 259 metropolitan areas in the United States. The report recommends a multi-track policy solution to resolve the shortage of affordable housing, including the Low Income Housing Tax Credit, the Community Development Block Grant and HOME Investment Partnerships programs, and FHA and USDA home loans. The report also discusses how Opportunity Zones could be instrumental in developing affordable housing in low-income areas and how it may be used with other federal programs. It concludes that workers in many vocations are crucial for the growth and sustainability of any community, but current federal housing resources are not enough to meet their affordable housing needs.
Legislative and Regulatory Activities
NCSHA, State HFA, and Industry Events
April 23 – 24 | HAI Group 2019 Moving to Work Conference | Washington, DC
Althea Arnold will participate.
May 1 | Stewards of Affordable Housing for the Future Annual Retreat | Washington, DC
Stockton Williams will speak at this event.
May 2 – 3 | Novogradac 2019 Affordable Housing Conference | San Francisco
Jennifer Schwartz will speak at this event.
May 3 | Entry Deadline for NCSHA's 2019 Annual Awards for Program Excellence
May 6 – 8 | Mountain Plains Housing Summit | Salt Lake City, UT
Stockton Williams will participate.
May 8 – 9 | Pennsylvania 2019 Housing Forum | Harrisburg, PA
Jennifer Schwartz will speak at this event.
May 13 | Early Registration Deadline and Hotel Group Rate Cutoff for NCSHA's Housing Credit Connect 2019
May 9 – 10 | Opportunity Zone Expo | Las Vegas, NV
Jim Tassos will speak at this event.
May 20 – 21 | North Dakota Housing Finance Agency Statewide Housing Conference | Bismarck, ND
Stockton Williams will speak at this event.
June 11 – 14 | NCSHA's Housing Credit Connect 2019 | San Francisco