NCSHA Washington Report | April 12, 2019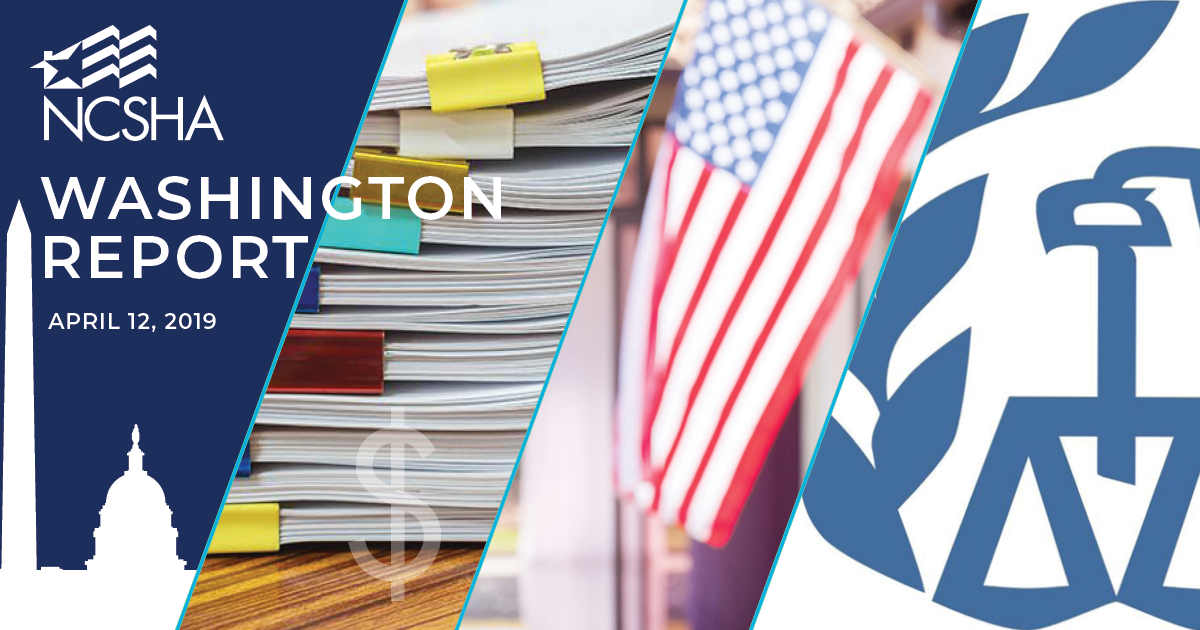 The IRS has been on our minds a lot lately and not just because it's tax filing season.
Last week, NCSHA commended the Service for clearing the way for states to serve more homeless veterans and other special populations in housing financed with Housing Bonds and Housing Credits. IRS and Treasury staff's responsiveness to calls from members of Congress, state HFAs, and other stakeholders to clean up an inconsistency in the tax code rules will ensure the optimal uses of $600 million in voter-approved housing funding in California and enable much-needed developments to proceed in Texas, Nevada, Hawaii, and other states.
Regrettably, IRS's recent action on a related front goes in the opposite direction, imposing a massive new regulatory burden on states that will hurt affordable housing.
The Service's newly amended final rules governing states' responsibilities for monitoring Housing Credit properties substantially increase the number of site visits and tenant file reviews states must conduct every year. Preliminary feedback from Housing Credit agencies suggests the negative impacts will be far-reaching and include:
Large increases in units subject to site visits, ranging from 29 percent to 150 percent across several states and exceeding more than 1,000 additional units in a single year in one state.
Significantly higher costs to add staff and hire additional contractors in all regions of the country; one state projects it will need to hire 11 new full-time employees.
Hardships for developers and owners who will bear the brunt of high monitoring fees states will be forced to charge, and fewer resources for other housing programs in states that have to divert funds to meet IRS' new monitoring mandate.
While the IRS rules modestly lower the state monitoring burden for larger properties, the much higher requirements for all other properties swamp any administrative savings.
And, since the new rules impose the relatively heaviest burden on smaller properties, rural states, which generally have smaller and more geographically dispersed Housing Credit portfolios, will be hardest hit. In some rural states, 90 percent or more of the entire Housing Credit stock will be subject to the more costly new requirements.
We have communicated our concerns to the Service on this issue and will continue to do so. The fact that the new rules give states until the end of 2020 to reflect the new monitoring requirements in their Housing Credit allocation plans affords an opportunity to develop a better approach.
NCSHA and the IRS have worked together constructively for decades to advance our shared goal of ensuring sound administration of the Housing Credit. This history of collaboration can — and must — be the basis for fixing a costly new mandate on states at a time when their affordable housing efforts can least afford it.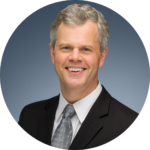 Stockton Williams | Executive Director
---
In This Issue
---
House Passes Resolution Allowing Higher Non-Defense Spending
The House of Representatives on Tuesday voted 219–201 in favor of a "deeming resolution" that will allow the House Appropriations Committee to base Fiscal Year (FY) 2020 spending bills on a $1.3 trillion spending limit. House Democratic leadership opted to consider this resolution after failing to secure enough votes to pass a bill to lift the Budget Control Act of 2011 (BCA) spending caps and set FY 2020 spending at $733 billion for defense and $631 billion for non-defense programs. However, in a statement on Wednesday, House Appropriations Committee Chair Nita Lowey (D-NY) indicated the Appropriations Committee will still write FY 2020 bills assuming that breakdown between defense and non-defense spending. Lowey is expected to further divide that money over the coming weeks, providing the funding levels for all 12 annual spending bills, including those funding HUD and USDA housing programs. Appropriations Committee staff suggest the HUD spending bill will need an additional $4.5 billion in FY 2020 just to maintain level funding given inflation and a drop this year in FHA receipts used to offset the HUD budget.
Senate Majority Leader Mitch McConnell (R-KY) and Speaker of the House Nancy Pelosi (D-CA) also announced this week that they will begin negotiations to raise the BCA caps. Congress and the Administration need to negotiate final FY 2020 numbers and sign into law a new deal to raise the BCA caps to avoid a 10 percent reduction in funding over last year's levels.
Record Number of Senators and New Members Sign on in Support of HOME
This week, Senators Chris Coons (D-DE) and Dianne Feinstein (D-CA) submitted to the Senate Appropriations HUD Subcommittee a letter in support of funding the HOME Investment Partnerships program (HOME) at $1.5 billion in FY 2020. Forty-one of their colleagues joined this year's request — the highest number in recent years — indicating just how critical HOME is throughout the country. Representative Marcia Fudge (D-OH) sent a similar letter to the House Appropriations HUD Subcommittee last week. That letter was signed by 130 members of Congress, including 19 new members.
Calabria Sworn In as FHFA Director
On Tuesday, Mark Calabria was officially sworn in as director of the Federal Housing Finance Agency (FHFA). Calabria's nomination was approved last week by the Senate on a party-line vote. Calabria was most recently the chief economist for Vice President Mike Pence and previously held positions relating to housing policy at the Cato Institute, the Senate Banking Committee, and HUD. For more information on Calabria, read NCSHA's summary of the Banking Committee's hearing on his nomination.
House Subcommittee Discusses CRA, Discrimination, and Redlining
On Tuesday, the House Financial Services Subcommittee on Consumer Protection and Financial Institutions held a hearing examining the Community Reinvestment Act (CRA) and the impact it has had on addressing housing discrimination and redlining. The witnesses included Jesse Van Tol, Chief Executive Officer, National Community Reinvestment Coalition; Clint Odom, Senior Vice President for Policy and Advocacy and Washington Bureau Executive Director, National Urban League; and Buzz Roberts, President and CEO, National Association of Affordable Housing Lenders. The witnesses agreed CRA is a vital catalyst of financing for affordable housing and community development and suggested that CRA laws and regulations need to be updated to adapt to changes in the banking industry, including the rising use of online banking, recent bank deregulation, and the closing of bank branches in LMI communities.
On Thursday, leaders from the three banking regulators with jurisdiction over CRA, the Federal Deposit Insurance Corporation, the Office of the Comptroller of the Currency, and the Federal Reserve, met to discuss drafting a proposed rule reforming their CRA regulations.
Treasury and IRS Publish Second Quarter Update to 2018–19 Priority Guidance Plan
On April 5, the Department of the Treasury (Treasury) and Internal Revenue Service (IRS) issued their second quarter update to the 2018–2019 Priority Guidance Plan (PGP) which sets forth Treasury and IRS guidance priorities for July 1, 2018, to June 30, 2019. The PGP includes projects related to guidance on Housing Credit income averaging, Opportunity Zones, and private activity bonds. The PGP update reports on activity through December 31, 2018, so it does not reflect the recently published guidance on Housing Credit compliance monitoring and utility allowances. NCSHA sent IRS comments on several of these issues individually and sent comprehensive comments to Treasury and IRS last June when feedback was initially requested on which guidance projects Treasury and IRS should address in 2018–19.
HUD Officials Brief Preservation Working Group
On Monday, the Preservation Working Group (PWG), of which NCSHA is a member, held its quarterly in-person meeting in Washington, DC. HUD staff from the Office of Multifamily Housing briefed PWG members on lessons learned from the government shutdown, HUD's FY 2020 Budget request, the Rental Assistance Demonstration, Section 8(b)(b) transfers, and HUD's proposed rule to update Section 3. PWG members also met with staff from HUD's Real Estate Assessment Center (REAC) to discuss HUD's demonstration and ways to improve the REAC protocol.
HUD Solicits Comments on Implementing Legislative Changes for Small Public Housing Agencies 
HUD this week released a notice providing guidance and requesting comments on implementing provisions enacted in May 2018 to streamline requirements for small public housing agencies (PHAs) that administer 550 or fewer combined public housing units and Housing Choice vouchers and predominantly operate in rural areas. The legislation also requires HUD to develop new information systems for public housing consortia and to make shared waiting list software available for voluntary use by multiple PHAs and owners of multifamily properties receiving HUD assistance. HUD's notice explains that, while certain statutory amendments became effective 60 days after enactment (July 23, 2018), they require rulemaking or guidance for implementation. HUD seeks public comments by April 15 on implementing these provisions.
HUD Publishes FY 2018 Section 202 NOFA 
On April 4, HUD published a Notice of Funding Availability (NOFA) for up to $50 million in Section 202 Housing for the Elderly Capital Advance funding for the development and operation of supportive rental housing for very low-income persons aged 62 years or older, and project rental subsidies to maintain ongoing affordability. Only nonprofits are eligible to apply to the NOFA. This money — half of what Congress provided for the Section 202 Capital Advance program in the 2018 omnibus spending bill — represents the first funds available for construction of new elderly housing under the Section 202 program since 2010. HUD will host a national webinar on Thursday, April 25, from 2:00 p.m. – 3:00 p.m. ET to provide an overview of the NOFA. The webinar will highlight the application submission process, requirements, eligibility, and rating factors.
Four Organizations Win Ivory Prize Housing Awards
On April 10, the Ivory Prize for Housing Affordability was awarded to four organizations "developing adoptable solutions to tackle housing affordability." The winners are Factory OS in the Construction and Design category, Landed and Home Partners of America in Finance, and The Alley Flat Initiative in Public Policy and Regulation Reform. Additional details and information on all the applicants and finalists are available on the Ivory Prize website. The 2nd Annual Ivory Prize competition will begin accepting applications on October 1.
Legislative and Regulatory Activities
April 15 | Deadline for Comments | HUD's Notice Requesting Comments on Small PHA Streamlining Provisions
April 25 | HUD Webinar | Section 202 NOFA
May 7 | Deadline for Comments | Consumer Financial Protection Bureau Advance Notice of Proposed Rulemaking on Residential Property Assessed Clean Energy (PACE) Loans
NCSHA, State HFA, and Industry Events
April 15 | Mark Calabria Swearing-In Ceremony | Federal Housing Finance Agency
Stockton Williams will participate.
April 16 | Moody's U.S. Housing and Housing Finance Conference | New York, NY
Stockton Williams will speak at this event.
April 17 | White House Opportunity Zones Conference | Washington, DC
Stockton Williams will participate.
April 23 – 24 | HAI Group 2019 Moving to Work Conference | Washington, DC
Althea Arnold will participate.
May 2 – 3 | Novogradac 2019 Affordable Housing Conference | San Francisco
Jennifer Schwartz will speak at this event.
May 3 | Entry Deadline for NCSHA's 2019 Annual Awards for Program Excellence
May 6 – 8 | Mountain Plains Housing Summit | Salt Lake City, UT
Stockton Williams will participate.
May 8 – 9 | Pennsylvania 2019 Housing Forum | Harrisburg, PA
Jennifer Schwartz will speak at this event.
May 13 | Early Registration Deadline and Hotel Group Rate Cutoff for NCSHA's Housing Credit Connect 2019
May 20 – 21 | North Dakota Housing Finance Agency Statewide Housing Conference | Bismarck, ND
Stockton Williams will speak at this event.
June 11 – 14 | NCSHA's Housing Credit Connect 2019 | San Francisco