In Confirmation Hearing, Calabria Pledges to Work on Reform with Congress and Maintain GSE Affordable Housing Activities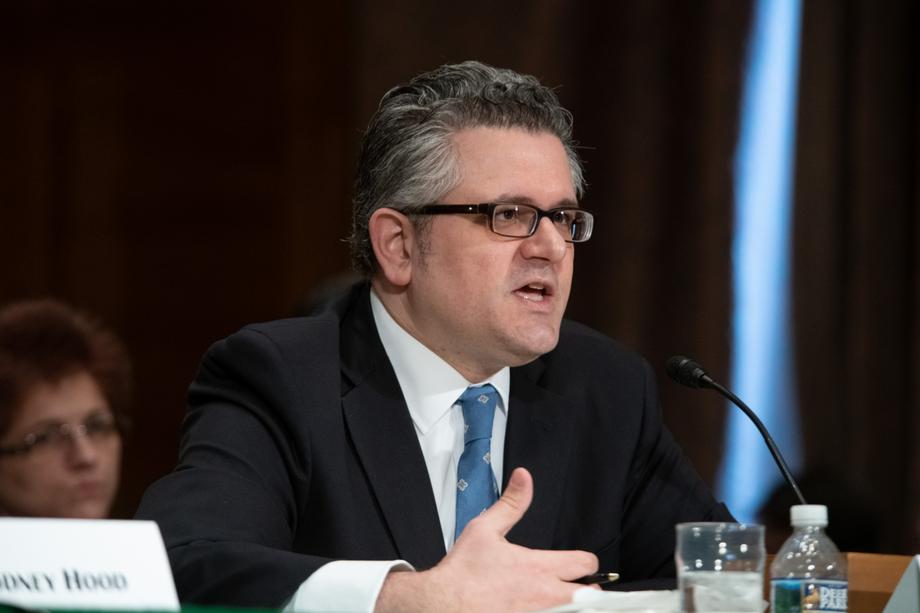 The Senate Banking Committee yesterday held a hearing on the nomination of Mark Calabria to serve as director of the Federal Housing Finance Agency (FHFA). If confirmed, Calabria would be the chief regulator for the government-sponsored enterprises (GSEs) Fannie Mae and Freddie Mac as well as the Federal Home Loan Banks.
In his opening statement, Committee Chair Mike Crapo (R-ID) highlighted Calabria's long experience in the housing policy sector and praised the nominee's devotion to public service. Crapo noted it has been a decade since Fannie Mae and Freddie Mac were first put into conservatorship, where they remain today. The status quo, Crapo argued, is untenable, and he said he hopes the Committee will consider reform legislation in this Congress. Crapo asserted that reforming the housing finance system falls squarely within the jurisdiction of Congress, but that there were steps FHFA could take to help the process along.
Ranking Member Sherrod Brown's (D-OH) opening statement acknowledged Calabria's qualifications but indicated concerns about views Calabria expressed in previous writing and statements. He specifically cited statements in which Calabria questioned the importance of the 30-year, fixed-rate mortgage; opposed a government guarantee for mortgage-backed securities; and urged that Fannie Mae and Freddie Mac's affordable housing goals be scrapped. Such actions would be extremely dangerous, Brown argued, particularly while the country is facing an affordable housing crisis.
Pledge to Defer to Congress
In his written and oral testimony, Calabria acknowledged he has a long record of statements about the housing finance system and occasionally has advanced strong opinions about the GSEs and how they should be structured. Calabria told the Committee that, as FHFA director, his duty would be to execute the will of Congress, not enact his own vision. He reminded the Committee that he had helped draft the Housing and Economic Recovery Act of 2008 (HERA), the legislation the established FHFA, as a top aide on the Banking Committee. He showed the Committee an old written copy of HERA he used during the lawmaking process to emphasize that the most important factor in any policy decision he were to make as FHFA director would be Congress' intent.
During questioning, Crapo outlined for Calabria his priorities for housing finance reform, including decreasing taxpayer risk; preserving the 30-year, fixed-rate mortgage; promoting competition; and supporting affordable housing. He asked Calabria if he would be willing to work with the Committee to develop legislation that meets these goals. Calabria pledged that he would and said he thinks it is possible to develop a sustainable housing finance system that maintains the 30-year mortgage and provides support for affordable housing.
Both Brown and Senator Chris Van Hollen (D-MD) queried Calabria about recent comments Acting FHFA Director Joseph Otting made to agency employees in which he indicated the Trump Administration had developed a plan for removing the GSEs from conservatorship and Calabria had already reviewed and signed off on the plan. Calabria answered both times that he was unaware of such a plan and that he had stopped participating in internal administration discussions about the GSEs after he knew he would be nominated. He also reiterated his earlier statement that the authority to determine the proper structure of the housing finance system remains with Congress. He suggested Otting may have simply been trying to boost FHFA employees' morale by reminding them of the important work that awaits them as policymakers consider how to reform the housing finance system.
Commitment to Affordable Housing Programs
Several Committee Democrats pushed Calabria on whether he intends to discontinue particular policies directing the GSEs to support affordable housing, several of which Calabria has criticized in the past. Calabria responded that he often wasn't expressing opposition to the policies themselves and that he had helped write the legislation that created them, but only expressed concern that the policies should not be implemented at certain times because the GSEs were not financially healthy enough. Elizabeth Warren (D-MA) cited testimony from a 2011 hearing, in which Calabria remarked that affordable housing goals for the GSEs had helped cause the financial crisis, and asked if he was planning to suspend the GSEs' current goals.
Calabria replied that he thought the goals, as they were established then, did modestly contribute to the economic downturn but were not the only cause. He said his intention as FHFA director would be to keep the affordable housing goals in place as long as they don't interfere with FHFA's statutory mandate to responsibly conserve the GSEs.
Jack Reed (D-RI) asked Calabria if he would commit to continuing the GSEs' annual contributions to the Housing Trust Fund and Capital Magnet Fund. Calabria answered that he would suspend those contributions only if the GSEs were failing, which he did not believe was likely to occur.
Tina Smith (D-MN) pressed Calabria on whether he intends to keep in place the FHFA's Duty-to-Serve rule, which she argued is critical to addressing housing needs in rural and tribal communities. Calabria replied that he would keep those rules in place, noting he had helped draft the provision of HERA that authorized the Duty-to-Serve requirements. He also agreed with Smith about the importance of supporting affordable housing options for rural and tribal populations.
Calabria currently works as chief economist for Vice President Mike Pence. In addition to his time with the Banking Committee, Calabria also served as deputy assistant secretary for regulatory affairs at the Department of Housing and Urban Development during President George W. Bush's administration and held positions with the Cato Institute, Harvard's Joint Center for Housing Studies, the National Association of Home Builders, and the National Association of Realtors. Calabria has addressed the state HFAs at several NCSHA events during his career.
During the hearing, the Committee also considered the nominations of Bima Patel to serve as assistant secretary for financial institutions at the U.S. Department of Treasury and Todd Harper and Rodney Hood to serve as members of the National Credit Union Administration Board. The Committee has not yet scheduled a vote on Calabria's nomination, but it is expected to hold one soon.