Washington Report | May 11, 2018
The theme of the Mountain Plains Housing Summit in Lincoln this week was innovation. Nearly 100 HFA staff and affiliate members, including 8 HFA executive directors and NCSHB President Pat Hand of Wyoming, participated.
Conference sessions focused on innovation's importance to HFAs in many aspects of their business: enhancing customer experience, reducing transaction costs, strengthening data security. Conference host and organizer Tim Kenny, executive director of the Nebraska Investment Finance Authority, pointed in his opening remarks to blockchain technology as an example. Blockchain digital distributed ledger and data security platforms are probably best known as the foundation for Bitcoin and other "cryptocurrencies."
Whether the technology's touted potential for real estate to transform recordkeeping, induce incremental investment, and deepen market liquidity ever materializes, housers are well advised to pay attention during this formative period of development. Bloomberg last week reported that the city of Berkeley, CA, will soon issue the first blockchain-backed municipal bond, with the intention in the near future to use the approach to fund affordable housing.
The innovation imperative in affordable housing is not limited to transactional applications. After years of false starts and dashed hopes, residential development and construction may be on the brink of technology-driven disruption, with significant implications for affordability.
Breakthroughs in modular and prefabrication techniques can now cut construction times in half and shave up to 20 percent from development costs, according to research from the Terner Center for Housing Innovation. Evidence is mounting that affordable pre-fab and modular homes can also achieve design quality comparable if not superior to conventionally constructed homes — a potentially potent antidote to some NIMBY resistance.
Even further out on the innovation continuum in construction is 3-D printing. An Austin-based firm called Icon in March unveiled the first permitted 3D-printed home in the United States — a prototype 350-square-foot unit the company says it created in 48 hours for $10,000 and can replicate even faster and cheaper. Over the next year, the firm plans to roll out a 1,500-square-foot product that it projects will sell for $125,000 — lower than the average purchase price of an HFA MRB-financed home.
Mission-oriented organizations like HFAs understand that the promise of disruptive technologies demands serious scrutiny of potential downsides. A blockchain-based rental apartment "auction" platform called Rentberry has been criticized for driving up rents in high-cost markets, although the company says it is actually saving renters money. And a thicket of supply chain and local regulatory barriers requires clearing for modular, prefab, and 3D-printed housing solutions to scale.
Ultimately, the future belongs to those who see it and seize it first. Mission-driven innovation in affordable housing is central to the HFA value proposition. One of our best opportunities to share and spread it is through NCSHA's Annual Awards for Program Excellence, now open for submissions.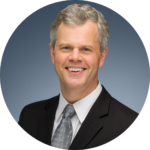 Stockton Williams | Executive Director
---
In This Issue
House Begins Work on Administration Rescissions Request
House Republican leaders, including House Majority Leader Kevin McCarthy (R-CA), on May 9 introduced a bill that would rescind previously appropriated funds for a variety of federal programs, including three affordable housing programs. The Spending Cuts to Expired and Unnecessary Programs Act, H.R. 3, is based on the Trump Administration's rescissions proposal, released May 8. The Administration's proposal and the McCarthy bill would rescind $15.45 billion in budget authority, including $142 million from the Capital Magnet Fund, $39 million from HUD's Public Housing Capital Fund, and $40 million from USDA's Section 521 Rural Rental Assistance program. Congressional leaders say they hope to bring up the bill in the House sometime in the next two weeks, without action by the House Appropriations Committee, which would normally mark up appropriations legislation before reporting it to the House. Senate Republican leaders have said they plan to consider the bill if and when the House passes it.
More House Members Cosponsor Housing Credit Improvement Act
Two more members have joined the list of cosponsors of the Affordable Housing Credit Improvement Act, H.R. 1661: Representatives Scott Peters (D-CA) and Mike Quigley (D-IL), bringing us to a total of 147 House members. Keep up your outreach to your members of Congress and reach out to us for help if you need it.
GAO Updates Expected Release Date of Its Housing Credit Development Cost Report
The Government Accountability Office (GAO) recently told NCSHA it is likely to release its much-anticipated report on Housing Credit development costs in late summer, slightly later than GAO's previous estimated release timeframe. As it has with prior Housing Credit studies, GAO intends to give NCSHA the opportunity to review a draft of the report and provide comments. GAO now expects to provide the draft to NCSHA sometime in June or July, though NCSHA is not able to share its contents or discuss findings until the report is published. GAO typically publishes NCSHA's comment letter in the final report.
NCSHA Meets with Treasury Officials on Opportunity Zones
NCSHA's Garth Rieman joined several other affordable housing groups in meeting with Treasury officials to discuss Opportunity Zones. Treasury officials expressed their interest in encouraging investment in Opportunity Zones as soon as possible and said they hoped to release next week the full list of Opportunity Zone designations for all states. They said they are considering what kind of guidance might be helpful or necessary, but hope to keep such guidance to a minimum. Treasury officials also said they view the Opportunity Zones tax benefits as complementary to the Housing Credit so they should be able to be used together, and they are looking at other tax incentives to determine if the Opportunity Zones benefits and other programs can be combined or not.
NCSHA Attends HUD Rent Reform Listening Session with Deputy Secretary Patenaude
NCSHA's Stockton Williams participated in a working lunch with HUD Deputy Secretary Pamela Patenaude, other senior HUD officials, and the leadership of several other national housing organizations to discuss the Administration's proposed Making Affordable Housing Work Act. The proposed bill would require public housing agencies (PHAs) and owners of buildings with project-based rental assistance to increase tenant contributions to 35 percent of gross income (with exemptions for persons with disabilities or who are at least 65 years old); allow PHAs and owners to use alternative rent structures and establish work requirements; and require verification of income every three years instead of annually. Deputy Secretary Patenaude expressed an interest in organizations' specific suggestions for improving the proposed bill, which has not yet been introduced in Congress.
NCSHA Meets with Acting Federal Housing Commissioner
NCSHA's Stockton Williams and Garth Rieman met this week with General Deputy Assistant Secretary for Housing and Acting Federal Housing Commissioner Dana Wade to press HFA priorities regarding the FHA-HFA Risk-Sharing program's Federal Financing Bank (FFB) option. We also discussed Performance-Based Contract Administration and other multifamily and single-family issues. While the discussion was constructive, we will continue efforts with Congress to push HUD to continue the FFB risk-sharing option after its scheduled termination on September 30.
NCSHA Meets with Congressional Research Service to Discuss Housing Credit Policy Issues
NCSHA's Stockton Williams and Jennifer Schwartz met with a researcher at the Congressional Research Service (CRS) at the researcher's request to explain HFA roles and responsibilities administering the Housing Credit, including agency underwriting to ensure that no more Credit is provided to properties than necessary for their financial feasibility. We agreed to informally survey some states to provide additional information. CRS is a nonpartisan agency charged with providing objective policy and legal analysis to congressional committees and members of Congress.
NCSHA and State HFAs Participate in Section 811 PRA Grantees Convening
NCSHA's Althea Arnold participated as a panelist in the On-Site Institute of HUD Section 811 Project Rental Assistance (PRA) Grantees Technical Assistance Collaborative in Washington, DC. Staff from 21 state HFAs participated in the Institute, which included high-level discussions of the PRA program as well as breakout sessions on specific program issues with state Medicaid and Human Services partners.
Fair Housing Groups Sue HUD for Delaying the AFFH Rule
The National Fair Housing Alliance and other organizations filed suit this week against HUD Secretary Ben Carson for delaying the Affirmatively Furthering Fair Housing (AFFH) rule earlier this year. The suit argues that HUD's action violates the requirements of the Administrative Procedure Act (APA) because it was arbitrary, conflicts with facts that show the rule was working, and was taken without providing the notice and comment procedures the APA requires. HUD announced in January that it would immediately stop reviewing plans that had been submitted but not yet accepted, and that jurisdictions wouldn't have to comply with the rule until after 2020. The agency said the postponement was in response to complaints from communities that had struggled to complete assessments and produce plans meeting HUD's standards.
Housing Groups Discuss New Multi-Sector Campaign
On May 10, NCSHA participated in an informational session about the new Opportunity Starts at Home campaign, which officially launched on March 20. Opportunity Starts at Home is a long-term, multi-sector campaign to meet the rental housing needs of the nation's lowest income people based on the concept that housing affordability is central to other national priorities, including healthcare, food security, civil rights, and education. The National Low Income Housing Coalition launched the Opportunity Starts at Home campaign together with the Center on Budget and Policy Priorities, Children's HealthWatch, Make Room, and the National Alliance to End Homelessness, and with a steering committee of partners including Catholic Charities USA, the Children's Defense Fund, Community Catalyst, the Food Research and Action Center, NAACP, National Alliance on Mental Illness, the National Association of Community Health Centers, the National Education Association, and UnidosUS.
Advocates to Push for Investments in Affordable Housing During Infrastructure Week
On May 15, the National Association for County Community and Economic Development will hold a briefing for congressional staff, titled "Housing Is Infrastructure," as part of the May 14 – 20 Infrastructure Week, held annually to highlight the need for increased federal investment in our nation's infrastructure. Infrastructure Week is a series of national and local events sponsored by a bipartisan coalition that includes the Chamber of Commerce, AFL-CIO, Business Roundtable, and other leading business groups, labor unions, and think tanks. The May 15 briefing will tout the importance of Housing Bonds, the Housing Credit, and other important federal housing programs. Elizabeth Strojan from the New York City Housing Development Corporation will participate in the briefing, with speakers from the National Low Income Housing Coalition, Affordable Housing Tax Credit Coalition, and National Housing Trust. NCSHA staff will also be in attendance. We encourage you to invite congressional staff you think might be interested in attending. Please also let us know if your agency participates in Infrastructure Week activities in your states.
Housing Advocates Promote Affordable Housing During Week of Action
Many housing advocates, including NCSHA, several HFAs, and some members of Congress, participated in the May 1 – 8 Housing Week of Action to highlight the importance of affordable housing and investments in federal housing programs. The Week of Action featured more than 125 events around the country and generated a substantial amount of social media attention, particularly on May 8, which was set aside for focused Twitter and other social media activity. A few images of HFA involvement are included below. More images are available here.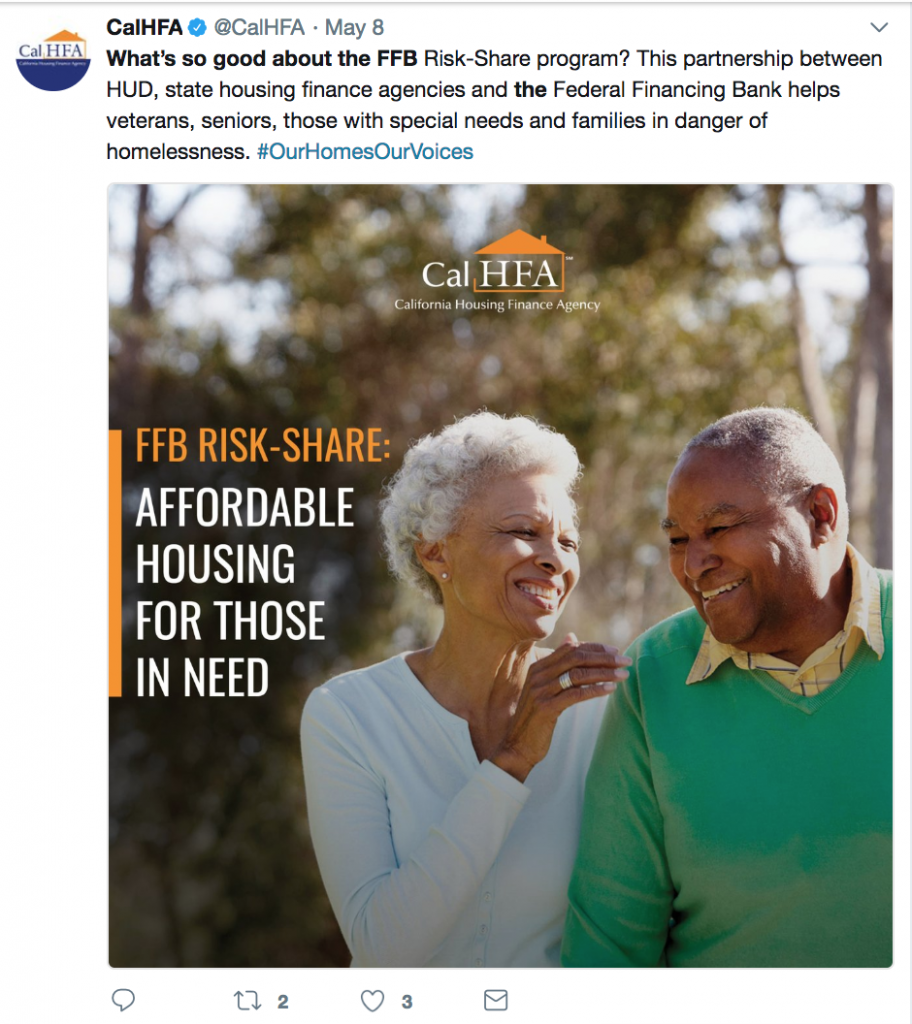 NCSHA Events
Industry Events and Meetings
NCSHA staff are participating in these upcoming events:
May 15 – 16  | Fannie Mae's HFA Summit
Stockton Williams is speaking and NCSHA staff will attend.
May 16 | FHFA Housing Finance Agency Workshop
Stockton Williams is speaking at this convening.
May 17 – 18 | Novogradac and Company's 25th Annual Affordable Housing Conference
Jennifer Schwartz is speaking on NCSHA's Recommended Practices in Housing Credit Administration.
June 13 | 2018 Affordable Housing Tax Credit Coalition Spring Meeting
Jennifer Schwartz is a panelist during the Legislative Update.
Legislative and Regulatory Activity