NCSHA Washington Report | April 2, 2021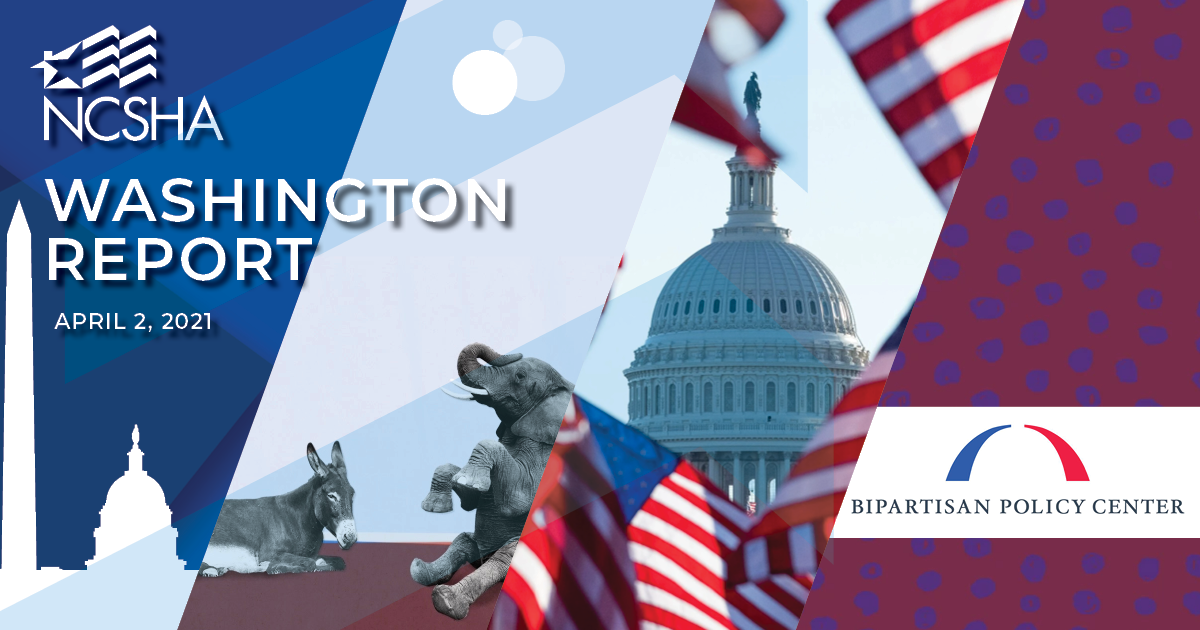 Thomas Edsall recently summarized the state of play in the "intense dispute among strategists, scholars, and pollsters" about whether there is "a viable center… [that can] be mobilized to enact widely backed legislative goals with bipartisan support."
Our mission is to demonstrate there is when it comes to affordable housing.
In fact, the makings of a consensus are already in place. Housing Credits and Housing Bonds have long had deep support in both parties — a trend we'll see continue in the re-introduction soon of the Affordable Housing Credit Improvement Act.
Democrats in recent years have come Republicans' way in recognizing regulatory overkill as one reason we're short millions of housing units in America. Bipartisan solutions could cut development costs and remove some of the most egregious, exclusionary barriers to a more equitable country.
Republicans in recent years have come Democrats' way in recognizing the necessity of federal financial support for ensuring affordable mortgage financing in all markets and every economic cycle. Bipartisan solutions could strengthen that commitment, while reducing taxpayer exposure and creating more opportunities for underserved borrowers through Fannie Mae and Freddie Mac.
Bipartisan leadership in the appropriations committees has consistently rejected proposed cuts to critical HUD and USDA programs — and often increased them when all had been said and done. Huge bipartisan majorities voted last year for two COVID-19 relief bills with historic investments in emergency rental assistance and homelessness support. A large bipartisan group of House members is calling for federal action to control escalating lumber costs.
Some dismiss bipartisanship as a quaint artifact of a bygone Washington at best and a self-defeating pipe dream at worst. After all, aren't we in an era of unprecedented polarization in our politics? Aren't all those polls showing voters want their representatives to work with the other side mostly misleading, since the most engaged voters are actually the most partisan — and since the general public values results above all?
Maybe so.
On the other hand, we'd argue it's the very volatility in the American electorate, which reflects and re-enforces partisanship — in 11 of the last 15 presidential and midterm elections, at least one of the House, Senate, or presidency has flipped — that illustrates the importance of having housing champions on both sides of the aisle. Even if you don't share our view that bipartisan policies stand to be more enduring, there's simply no good reason why one side should be the party of housing.
So, count us among those encouraged by the Bipartisan Policy Center's announcement last week of a new council of national housing leaders that will advise federal policymakers on middle-ground solutions to continuing COVID-19 challenges, racial inequities, and development and preservation needs. Two of the council's 20 members are state HFA executive directors, Gerald Hunter from Idaho and Massachusetts' Chrystal Kornegay.
We support the effort and will work for its success.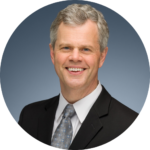 Stockton Williams | Executive Director
State HFA Emergency Housing Assistance
---
In This Issue
---
Donald Named Executive Director/CEO of DCHFA
The Board of Directors of the District of Columbia Housing Finance Agency (DCHFA) has appointed Christopher E. Donald as executive director and CEO. Donald has served as interim executive director since January 2020, following the untimely death of Todd A. Lee. Previously, Donald was the senior vice president of DCHFA's Multifamily Lending and Neighborhood Investments division.
NCSHA Testifies at IRS Hearing on Housing Credit Average Income Test
On March 24, NCSHA's Jim Tassos joined Housing Credit allocating agency representatives from California, Colorado, Minnesota, Texas, Virginia, and Washington and numerous industry partners at an IRS public hearing to discuss Average Income Test (AIT) proposed regulations for the Housing Credit. Consistent with comments we submitted on the proposed rule in December, NCSHA's testimony focused on the conflict between the proposed rule and congressional intent in establishing the AIT minimum set-aside, inconsistencies with other Housing Credit program requirements, significant conflicts with Fair Housing and accessibility laws and the Violence Against Women Act, unique challenges for multiple subsidy developments, and the impact of the proposed rule on developer and investor interest in using AIT. Among our recommendations, NCSHA urged IRS to publish a new proposed rule to provide the Housing Credit industry another opportunity for public comment. For more information on the hearing, see NCSHA's blog.
NCSHA Urges Increased Lending to People of Color, Support of HFA Lending During FHFA Public Listening Session
NCSHA's Garth Rieman testified March 25 during a Federal Housing Finance Agency (FHFA) listening session on its Advanced Notice of Proposed Rulemaking (ANPR) on Fannie Mae's and Freddie Mac's affordable housing goals. NCSHA's statement reiterated the comments we submitted earlier this year on the ANPR, urging FHFA to establish robust goals that push the Enterprises to do as much responsible affordable lending as possible and to serve underserved markets better. The testimony also recommended FHFA encourage the Enterprises to increase lending to people of color and address impediments to increased Enterprise support for HFA affordable housing lending.
NCSHA Leads National Sign-On Effort Requesting $1.7 Billion for HOME
On March 23, the HOME Coalition, which NCSHA chairs, sent a letter to congressional appropriators urging that funding for the HOME Investment Partnerships program be restored to at least $1.7 billion in FY 2022. More than 2,000 organizations, businesses, and government entities from across the country signed the letter.
Treasury and IRS Issue Emergency Rental Assistance Guidance
Both the U.S. Department of the Treasury and the Internal Revenue Service (IRS) recently issued Emergency Rental Assistance (ERA) program guidance. On March 26, Treasury published an update to its Frequently Asked Questions reversing earlier guidance that limited administrative costs to direct costs. The new guidance also changed previous policy that required grantees to use the same pot of funding — no more than 10 percent of the total grant — for both administration and housing stability services. Instead, grantees may use up to 10 percent of their financial assistance funds (at least 90 percent of each grantee's grant is for financial assistance such as rent and utilities) for administrative costs associated with the provision of financial assistance and up to 10 percent of housing stability services funds (no more than 10 percent of each grantee's grant is for housing stability services) for administrative costs associated with the provision of housing stability services.
The IRS issued new Frequently Asked Questions on the tax treatment of ERA funds. Payments for rent or utilities made under ERA are not included in the tenant's gross income for tax purposes but are included in the gross income of the landlord or utility provider receiving the payment.
White House Infrastructure Plan Includes $213 Billion for Affordable Housing
This week, the White House released its American Jobs Plan, focused on rebuilding American infrastructure, supporting home care workers, and revitalizing manufacturing, all with an emphasis on racial justice, clean energy, and climate impacts. The proposal — which would require congressional action — calls for $213 billion in affordable housing resources, including tax credits, formula funding, grants, project-based rental assistance, enactment of the Neighborhood Homes Investment Act, public housing capital funding, and clean energy resources for weatherization. The plan would be paid for over 15 years through increases in corporate taxes. For more information, see our blog.
Biden Administration Extends Until June 30 and Modifies CDC Eviction Moratorium
This week, the director of the Centers for Disease Control and Prevention (CDC) extended until June 30 the agency's eviction moratorium, which would have otherwise expired March 31. The revised order clarifies several issues, including that a declaration signed under a previous order remains valid for the duration of the new order, thus there is no need for a tenant to submit a new declaration; evictions for nonpayment of rent initiated but not completed by September 4 (the date on which the CDC issued its original moratorium) are subject to the order; trespass is not considered a criminal activity that would potentially subject an individual to eviction if trespass is alleged because a covered person remained in their home despite nonpayment of rent; and individuals who have been exposed to or may have contracted COVID-19 may not be evicted on the grounds that they pose a health or safety threat to other residents as long as they take reasonable precautions not to spread the disease.
The Consumer Financial Protection Bureau and Federal Trade Commission issued a joint statement saying both agencies will monitor and investigate eviction practices to ensure landlords, management services, and owners are complying with the CDC order.
Todman Nominated to Become HUD Deputy Secretary
On March 24, the Biden Administration announced the nomination of Adrianne Todman to become the new Deputy Secretary at the U.S. Department of Housing and Urban Development (HUD). Todman has served as CEO of the National Association of Housing and Redevelopment Officials since 2017, and for eight years she led the District of Columbia Housing Authority. Todman previously served at HUD in the Office of Public and Indian Housing and the Office of the Secretary, and she was the legislative director for former Congressman Ron de Lugo (D-VI). The Senate Banking Committee is likely to hold a hearing soon to consider Todman's nomination.
Cortez Masto Introduces Bill to Promote Local Housing Planning
In March, Senator Catherine Cortez Masto (D-NV) introduced the Better PLAN Act to create a housing coordination process modeled after the Transportation Department's Congestion Management Process, which uses evidence-based and collaborative approaches to reduce and manage congestion, to include housing considerations in transportation planning.
Klobuchar, Portman, Kaine Introduce Bill to Improve Planning to Increase Affordable Housing Supply
Senators Amy Klobuchar (D-MN), Rob Portman (R-OH), and Tim Kaine (D-VA) introduced the Housing Supply and Affordability Act in March to create a new grant program to help localities develop and implement comprehensive housing policy plans. This program will provide technical assistance to help states, localities, and regional coalitions increase housing supply, improve housing affordability, and reduce barriers to new housing development while avoiding the displacement of current residents. Companion legislation in the House of Representatives is led by Representatives Lisa Blunt Rochester (D-DE), Jaime Herrera Beutler (R-WA), and Joyce Beatty (D-OH).
HUD Publishes Section 3 FAQ and 2021 Income Limits
On March 25, HUD published answers to frequently asked questions about Section 3 and the Enhancing and Streamlining the Implementation of Section 3 Requirements for Creating Economic Opportunities for Low- and Very Low-Income Persons and Eligible Businesses Final Rule, published September 29, 2020. The document is intended to provide guidance for Section 3 funding recipients, subrecipients, contractors, subcontractors, workers, and other stakeholders.
On April 1, HUD issued income limits to determine eligibility for various HUD-assisted housing programs including the public housing, Section 8 Project-Based, Section 8 Housing Choice Voucher, Section 202 Housing for the Elderly, and Section 811 Housing for Persons with Disabilities programs. HUD issued separate income limits for Multifamily Tax Subsidy Projects, used to determine eligibility for Housing Credit and tax-exempt housing bonds. The income limits are effective immediately.
FHA Allows Endorsement Eligibility for Mortgages in Forbearance to Expire
On March 23, the Federal Housing Administration (FHA) provided notice that, on March 31, its temporary guidance permitting a mortgagee to endorse a mortgage loan that was closed in accordance with FHA requirements and where the borrower subsequently was affected by a financial hardship due, directly or indirectly, to COVID-19 would expire. FHA first announced this temporary guidance in June 2020 with Mortgagee Letter 2020-16 and extended it last December with ML 2020-45. Reportedly fewer than three percent of FHA-approved mortgagees requested endorsement of such mortgages.
IRS Updates Home Prices, Income Figures for MRBs and MCCs
IRS last week published Revenue Procedures 2021-17 and 2021-19 updating the home purchase price and income limits for the Mortgage Revenue Bond (MRB) and Mortgage Credit Certificate (MCC) programs. In Revenue Procedure 2021-19, which updates the income limits, IRS announced it will no longer publish annual guidance updating the income figures for MRBs and MCCs. Instead, issuers will be able to use HUD's Section 8 income limits for low and very low income as soon as they are published by HUD. Issuers will have 90 days each year to adjust to the new income limits. NCSHA has advocated for several years for IRS to implement a transition period for the new income limits.
Financial Services Subcommittee Examines State of Public Housing
The House Financial Services Subcommittee on Housing, Community Development, and Insurance held a hearing March 24 to discuss the state of public housing amidst COVID-19. During their opening statements, Committee Chairwoman Maxine Waters (D-CA) and Subcommittee Chairman Emanuel Cleaver (D-MO) emphasized public housing has served as an essential tool for housing persons with low incomes and they are working to provide additional support for it in infrastructure legislation Congress is likely to consider soon. Subcommittee Ranking Member Steve Stivers (R-OH) expressed his willingness to work with Chairman Cleaver to ensure that housing authorities are given more funding flexibility to address their local needs. He also spoke about devising strategies to ensure tenants living in public housing have pathways to self-sufficiency, including offering more rental assistance and creating opportunities for current tenants to become homeowners.
During the question-and-answer period, the hearing witnesses noted the demands to preserve public housing far exceed the capital funds available to make substantial building and unit maintenance investments. The witnesses also emphasized the need to expand affordable broadband access for those living in public housing, especially for school-age children, senior citizens who rely on telemedicine, and persons with disabilities.
Fudge Says FHA Will Not Adjust Insurance Premiums in the Near Term
In a statement released March 30, Secretary Marcia Fudge said HUD has no plans to adjust the premiums for FHA single-family mortgage insurance in the near term. Fudge's statement accompanied the release of FHA's quarterly report to Congress on the financial status of FHA's Mutual Mortgage Insurance Fund (MMF). While the report found the MMF remains financially sound and above its statutorily mandated capital level of two percent, Fudge noted FHA continues to experience an elevated level of serious delinquencies due to COVID-19. Keeping the premiums at their current level, Fudge asserted, is necessary to ensure the overall health of MMF and FHA's single-family programs.
BPC Announces New Housing Advisory Council, Initiative on Racial Equity and Housing
The Bipartisan Policy Center (BPC) last week announced the formation of a new housing advisory council to identify and promote policies that "advance racial equity and opportunity through housing." The council is chaired by BPC Board members Henry Cisneros, a former HUD Secretary, and Pamela Hughes Patenaude, a former HUD Deputy Secretary, as well as two former mayors — San Diego's Kevin Faulconer and Philadelphia's Michael Nutter. Gerald Hunter and Chrystal Kornegay, the executive directors of the Idaho Housing and Finance Association and MassHousing, respectively, are council members.
MBA and NCSHA Host Renter Counseling Webinar
This week, NCSHA joined the Mortgage Bankers Association (MBA) to host a webinar on how renter counseling can mitigate evictions and reduce operational costs for owners. The panel featured Virginia Housing's renter education program and a discussion of the role state HFAs can play in advancing housing counseling and education for renters. The webinar also highlighted several renter counseling providers. A recording of the webinar and the presentation materials are available on NCSHA's website.
NCSHA in the News
Carolina Public Press: State and national bans on evictions extended at 11th hour
The Dialog: Catholic leaders ask CDC for extension of eviction moratorium beyond March 31
The Wall Street Journal: Landlords, Housing Groups Brace for Evictions in Tri-State Area
Legislative and Regulatory Activities
NCSHA, State HFA, and Industry Events
April 6 | National Development Council Academy | Virtual
Jennifer Schwartz will speak at this event.
April 8 | Midwestern Housing Roundtable | Virtual
Jennifer Schwartz will speak at this event.
April 29 – 30 | Novogradac 2021 Affordable Housing Conference | Virtual
Jennifer Schwartz will speak at this event.
May 11 | National Association of REALTORS Property Management Forum | Virtual
Jennifer Schwartz will speak at this event.
May 20 | New American Funding – Freddie Mac Webinar | "Down Payment Assistance — The First Step to Increasing Black Homeownership"
Stockton Williams will speak at this event.
May 20 – 21 | Annual Meeting of the American Bar Association Affordable Housing & Community Development Forum | Virtual
Jennifer Schwartz will speak at this event.
June 21 – 24 | NCSHA's Housing Credit Connect | Virtual
Back to NCSHA Washington Report
Only members receive NCSHA Blog and Washington Report.