State Housing Finance Agencies: At the Center of the Affordable Housing System
For more than 50 years, state housing finance agencies (HFAs) have played a central role in the nation's affordable housing system.
HFAs have delivered more than $500 billion in financing to make possible the purchase, development, and rehabilitation of more than 7.5 million affordable homes and rental apartments for low- and middle-income households.
Every state HFA was created by its state to meet its particular affordable housing needs. Most HFAs are independent entities that operate under the direction of a board of directors appointed by their state's governor.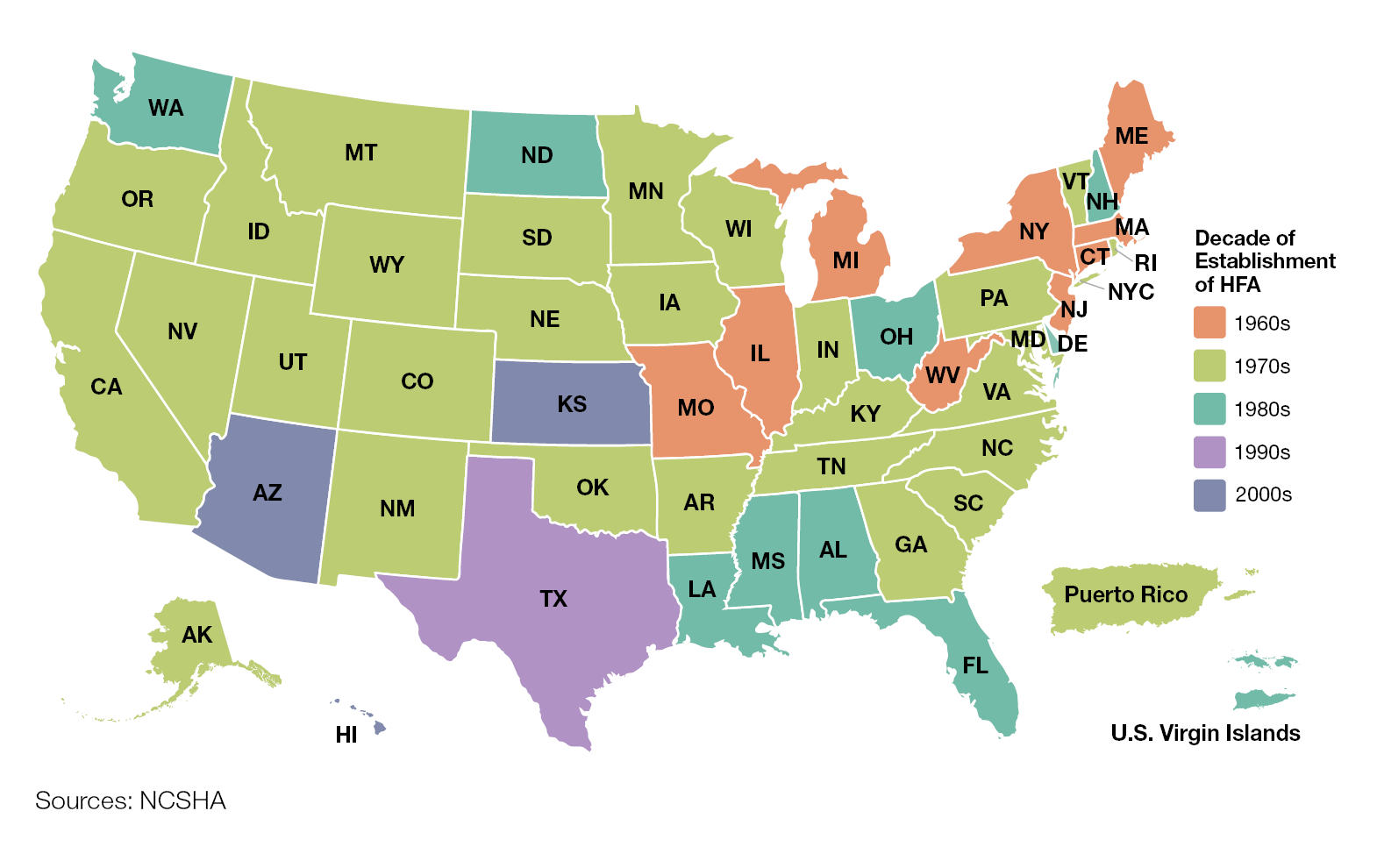 Most HFAs are fully self-supporting, operating in the capital markets without the financial backing of their respective states and generating their own resources to fund their activities.
Each state HFA in its own ways combines the financial tools and business discipline of a large-scale lending institution with the planning and policy-making responsibilities of a mission-oriented, public-purpose agency.
In the decade since the Great Recession, HFA business models and program activities have evolved significantly, positioning the agencies to remain key players in addressing their states' and the nation's housing challenges in the years ahead.
This report from the National Council of State Housing Agencies describes the role and quantifies the impacts of state HFAs. It demonstrates the agencies' value proposition at the center of the American affordable housing system by showing how they are:
Self-supporting, large-scale enterprises;
Reliable sources of capital in the affordable housing system;
Providers of high-quality affordable housing financing;
Administrators of essential federal rental housing resources; and
Generators of economic benefits for their states.
---
Report Contents
---
---
State HFAs are the primary statewide administrators of federal rental assistance and rental housing development and preservation funds.
---
State HFAs are standing up new emergency rental assistance programs in response to the coronavirus crisis. Information on and links to state programs can be found on NCSHA's Emergency Rental Assistance page. These programs are not reflected in the above graph.
---
HFAs delivered the federal Hardest Hit Fund (HHF), created to help unemployed homeowners during the Great Recession.
Borrowers who got HFA assistance through the program were 28 percent less likely to default on their mortgages.  The program prevented $9 billion in losses to lenders and local governments, while helping hundreds of thousands of families stay in their homes.
The Housing Assistance Fund proposed by Senator Reed and included in the House HEROES Act would create a similar program for coronavirus relief.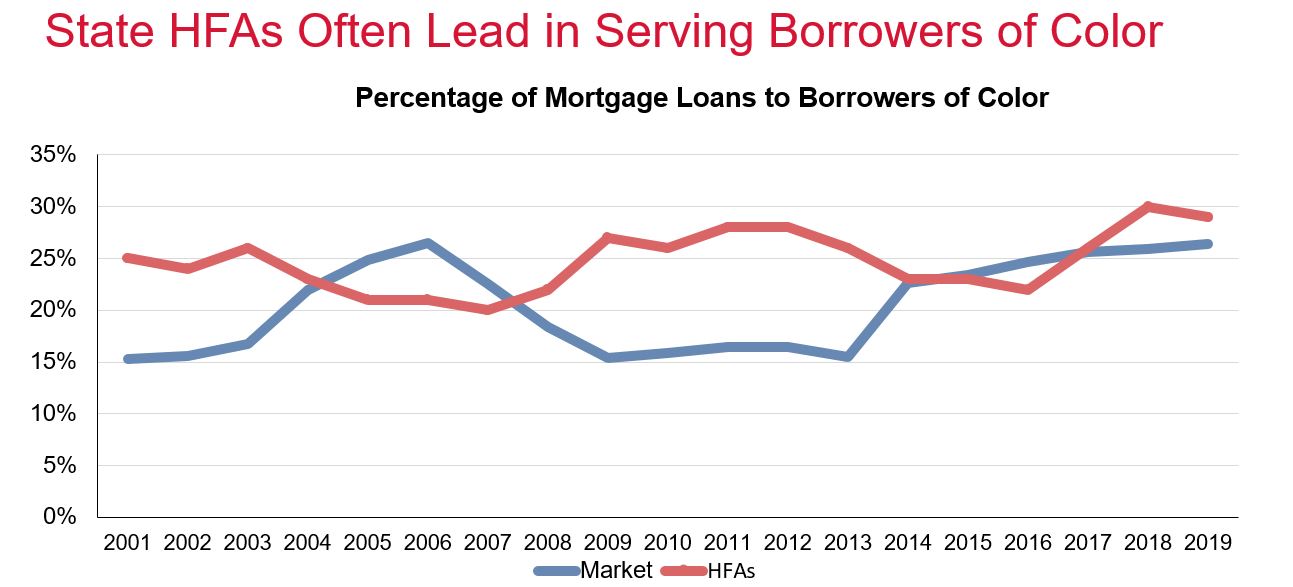 State HFAs are drivers of homeownership for borrowers of color, as reflected in the minority borrowers' shares of HFA homeownership financing in states such as:
CA – 65 percent;
DC – 79 percent;
GA – 61 percent;
LA – 56 percent; and
TX – 77 percent.
---


A 2018 study of more than 1 million low- and moderate-income mortgages found HFA loans were 20 percent less likely to experience a long-term default and 20–30 percent less likely to experience foreclosure than other loans to similar borrowers.
According to the report: "Not only are HFAs more likely to require full documentation and careful underwriting, they also serve as a third-party monitor on the partner lenders originating loans through the state program, creating an additional incentive for careful screening by the lender."
Click to enlarge | Sources: NCSHA; NAHB
   Click to enlarge | Sources: NCSHA; NAHB

Click to enlarge | Sources: NCSHA, S&P Ratings, Fitch Ratings

State HFAs don't rely on the taxpayers to fund their operations. They maintain consistently high credit ratings, ranging from A to AAA, as of the end of 2019, according to S&P Global Ratings. State HFA aggregate equity has increased 22 percent since 2015, to nearly $35 billion, as of the end of 2019.
---
Learn more about the state HFAs by visiting the directory.
---