Banking Committee Examines Administration Housing Finance Plans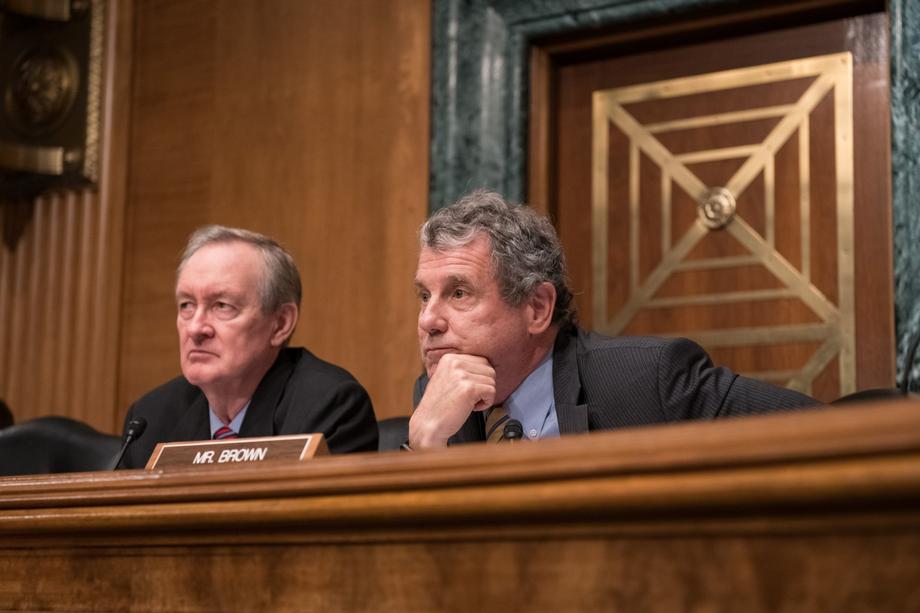 The Senate Banking Committee yesterday held a hearing to discuss housing finance reform proposals released last week by the U.S. Treasury Department and HUD. Committee Republicans and Democrats expressed wide disagreements about the merits of the proposals, particularly their support for affordable housing. Witnesses during the hearing were Treasury Secretary Steve Mnuchin, HUD Secretary Ben Carson, and Federal Housing Finance Agency (FHFA) Director Mark Calabria.
Both Treasury's and HUD's plans, which respond to an executive memorandum issued by Trump in March, include a mix of legislative and administrative reform proposals. Treasury's plan focuses on removing the government-sponsored enterprises (GSEs) Fannie Mae and Freddie Mac from conservatorship and establishing a new competitive secondary housing finance market. HUD's plan outlines potential changes to the Federal Housing Administration (FHA) and Ginnie Mae. NCSHA further summarized both plans in a memorandum to members.
Committee Chair Mike Crapo's (R-ID) opening statement complimented the Administration's proposals, which he said laid out a blueprint for developing a sustainable housing finance system, noting that Treasury's plan was similar to a GSE reform outline he released in February. Crapo stressed that only Congress can advance "holistic, comprehensive reform" and noted that five years earlier the Banking Committee passed bipartisan GSE reform legislation, showing that it is possible. At the same time, he urged the Administration to make incremental policy changes to put the system in a better position to be reformed.
Committee Ranking Member Sherrod Brown (D-OH) expressed vigorous opposition to the plans, which he said "will make mortgages more expensive and harder to get." Brown particularly criticized the plans for what he said was their inadequate support for affordable housing and access to credit. "Affordability and access," Brown argued "…can't be an afterthought once we've answered other questions about the structure of the housing finance system – they have to be built into the system."
In his written and spoken testimony, Mnuchin argued that the GSEs' ongoing conservatorship is unstainable and puts taxpayers at risk. Treasury's proposal he said, provides a reasonable plan for removing the GSEs from conservatorship while ensuring the availability of 30-year fixed-rate mortgages. Mnuchin emphasized that the Trump Administration's preference is to work with Congress to pass comprehensive reform legislation, but that Treasury would continue to support administrative steps taken by FHFA to improve regulation of the GSEs.
Carson focused his testimony on the role he envisions HUD playing in reforming the housing finance system. He outlined four key pillars of HUD's plan: returning the Federal Housing Administration (FHA) to its core mission of serving underserved borrowers; protecting taxpayers from risk; providing FHA and Ginnie with tools they need to effectively carry out their programs; and supporting a liquid housing finance system. FHA's historical role in the mortgage market, Carson said, is to support borrowers who cannot access credit in the private market. In recent years, FHA's business has expanded beyond this mission, Carson said, and FHA should work with other federal agencies to ensure it is not competing for the same borrowers with the GSEs.
Calabria told the Committee that both plans were consistent with his priorities as FHFA Director, which include strengthening FHFA as a regulator and letting the GSEs build up enough capital to match their risk profile. He expressed concern that Fannie Mae and Freddie Mac have a combined leverage ratio of nearly 1,000 to one, compared to ten to one for most large banks. The risk, Calabria said, is unacceptable, and necessitates that the GSEs be allowed to build up more capital.
The housing finance system, Calabria said, should serve both homebuyers and renters and protect taxpayers. The current system, he contended, does neither. Calabria told the Committee that while only Congress can enact true structural reform, FHFA will pursue regulatory changes to improve the GSEs.
Legislative vs. Administrative Reform
Throughout the hearing, Committee members discussed what reforms the Administration can carry out on its own, and whether they should do so or defer to Congress. After the three witnesses each reaffirmed to Crapo their belief that congressional action is the ideal vehicle for reform, Crapo asked Calabria if he was willing to implement significant reforms on his own. Calabria said that he intends to, and that he is particularly concerned about addressing the GSEs' current leverage ratios. Senator John Kennedy (R-LA), who several times referred to the current housing finance system as a "dumpster fire," called on the Committee to mark-up legislation enacting Treasury and HUD's proposals, so that the Committee could consider them in full. In the meantime, he urged the witnesses to do as much as they can to reform the GSEs.
Support for Affordable Housing and Access to Credit
Committee Democrats expressed concerns about the level of GSE support for affordable housing anticipated under Treasury's plan, which calls for Congress to eliminate the GSEs' affordable housing goals and replace them with an assessment on the GSEs that Congress would appropriate toward affordable housing programs. Brown expressed dismay that Treasury did not include in its plan any efforts to address the racial homeownership gap. He also expressed skepticism to Mnuchin that, should the GSEs be required to build up additional capital, they won't have to increase prices on consumers and cut down on their affordable lending.
Senators Bob Menendez (D-NJ) and Mark Warner (D-VA) both expressed concern that Treasury's plan calls for Congress and FHFA to look for ways to curtail the GSEs' multifamily business, particularly Treasury's suggestion that FHFA lower the GSEs' multifamily activity cap. Doing so, they both argued, will cut down needed support for affordable rental housing at a time when it is desperately needed. Mnuchin disagreed, saying the purpose of the proposals was to ensure that the GSEs don't deviate from their mission to support financing for multifamily housing that is affordable to low- and moderate-income consumers.
Committee Republicans came to the Administration's defense. Pat Toomey (R-PA) argued that the GSEs currently support affordable housing through inefficient cross-subsidization that results in lower premiums for higher risk borrowers. The witnesses all agreed, with Calabria noting that there is not a strong correlation between a borrower being high-risk and low-income. The witnesses all agreed with Toomey that it would be more efficient for the GSEs to support affordable housing in a more direct manner, such as assessments used to support housing programs.
Tina Smith (D-MN) asked the witnesses why the Administration's plan did not mention the possibility of mortgage guarantors operating as utilities, with regulated rates of returns and pricing. She pointed out that several industry groups included this suggestion in their housing finance reform proposals as a means of promoting affordability. Mnuchin said that he was open to such a system.
Warner and Senator Jack Reed (D-RI) asked Calabria if he still intends to continue the GSEs' annual contributions to the Housing Trust Fund and Capital Magnet Fund, even if the GSEs are in the process of raising capital. Calabria said he would continue to require the contributions as long as he is statutorily obligated to.
Disparate Impact Rule
Senator Doug Jones (D-AL) and Chris Van Hollen (D-MD) questioned Carson about HUD's recently issued proposed rule to amend the standards for proving disparate impact in fair housing cases. Both Senators argued that HUD's proposed rule would make it harder to combat racial discrimination in housing by making it almost impossible to prove disparate impact. Jones expressed frustration with HUD's enforcement of fair housing, noting that the agency has filed no disparate impact complaints under Carson's leadership. Carson defended his record on fair housing, citing several actions HUD has taken, including against Facebook. Carson told Jones that the purpose of the rule was to align HUD's disparate impact standard with the one outlined by the Supreme Court. Jones said such an effort was wholly unnecessary.