Washington Report | October 5, 2018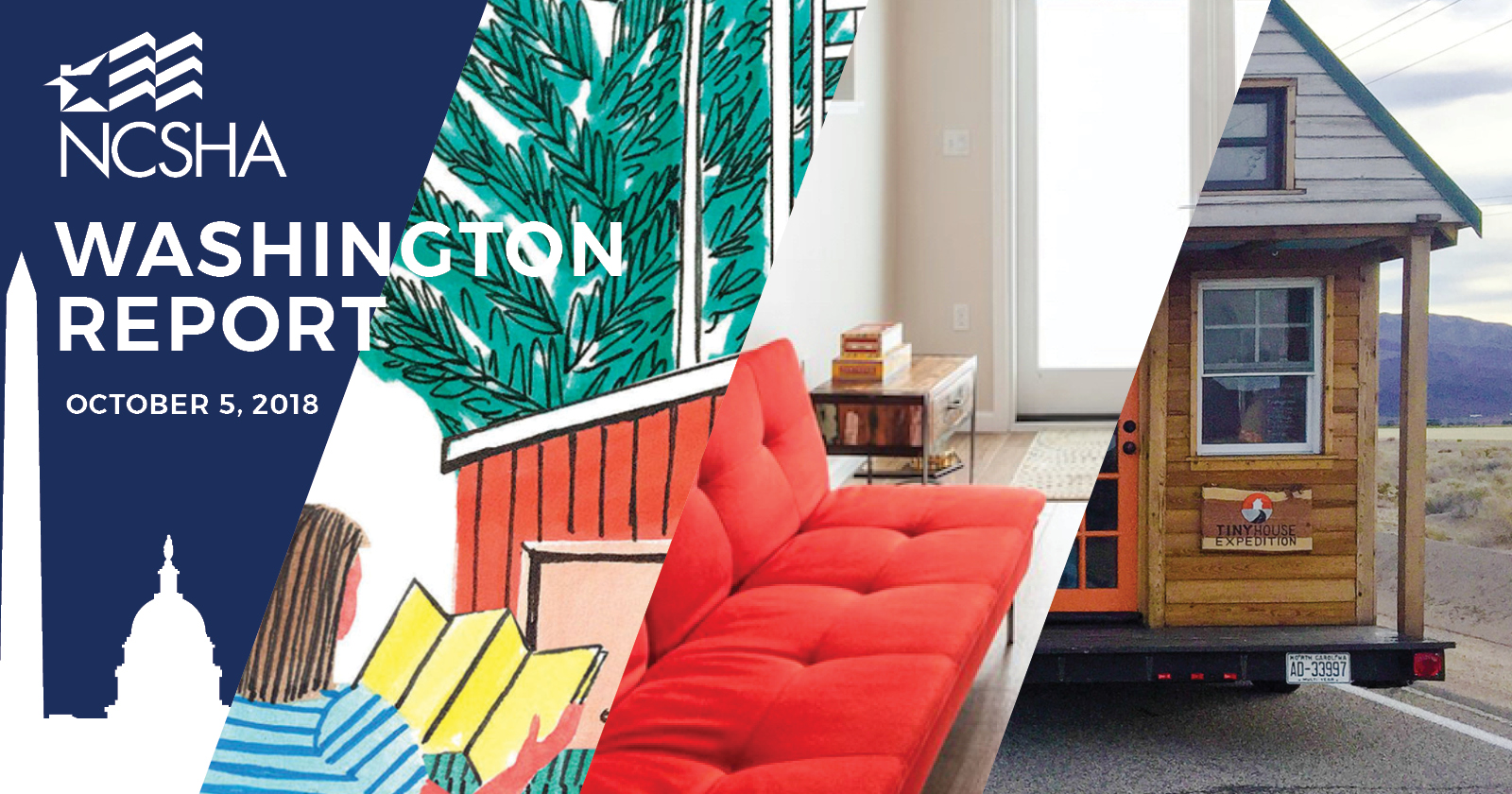 At New Hampshire Housing's "2018 Housing & the Economy Conference" in Manchester yesterday, we heard from Kol Peterson, the "ADU Guru," about the untapped potential of what you might know as "granny flats," or "mother-in-law suites," or "carriage houses," as a sleeper solution to housing affordability needs in New Hampshire and elsewhere.
Accessory dwelling units (ADUs) generally refer to secondary residential units with complete living facilities on a single-family lot. As their more common names suggest, they have been around for a long time. Peterson estimates that there are 25,000 to 100,000 permitted ADUs — and several million unpermitted ones — all over the United States today.
New Hampshire Housing is looking hard at the ADU opportunity in response to a 2017 state law designed to "expand the supply of housing in New Hampshire communities without further land development, as well as to encourage efficient use of existing housing stock and infrastructure, and provide an affordable housing option in communities."
While ADUs have been on planners' radar screens for decades, they have only recently been seen as a potentially scalable affordable housing strategy. Their upside is likely greatest in places that combine relatively low density with relatively high housing prices. Even in those markets, it remains to be seen whether ADUs will be affordable to lower-income renters.
Research by the Terner Center for Housing Innovation at the University of California Berkeley suggests reasons for optimism, so long as financing and zoning issues can be addressed, concluding: "ADUs provide housing for small households of moderate means, ensuring that this market segment does not compete for precious affordable stock elsewhere."
The ADU's hipper little sister is the "tiny home," a well-known housing type these days with its own bookshelf, TV shows, and savvy social media presence. (We don't have space — really! — to talk about their multifamily cousin, the "micro-unit.")
Tiny homes are even smaller than ADUs, ranging in size from 50 to 400 square feet. There may be 10,000 in the country, according to one estimate. While tiny homes have their critics, a number of cities have identified them as central to their strategies for addressing homelessness. Many are attempting to replicate the successes of Seattle's Tiny House Villages, which serve hundreds of people a year in roughly 100-square-foot homes built by volunteers at a cost of $2,500 per unit.
Sharon Lee of the Low Income Housing Institute, which has developed the villages, is a longtime developer of conventional affordable housing who has noted, "We know that building more low-income housing is the real solution — but with thousands of vulnerable families and individuals on the streets today, tiny houses are a viable, low-cost, and dignified solution. And they save lives."
The best ADUs and tiny homes reflect real innovation in residential design and construction. More deeply, these new — really, re-emergent — housing types force us to reckon with the evolving social expectations, and at times conflicting aspirations, at the heart of housing policy and practice.
Stockton Williams | Executive Director
---
In This Issue
Maura Collins Named Executive Director of Vermont HFA
The Vermont Housing Finance Agency's (VHFA) Board of Directors announced October 2 it has selected Maura Collins to be VHFA's next Executive Director, effective January 1, 2019. Collins will step into her new role when Sarah Carpenter, the agency's Executive Director for the past 20 years, retires. Since joining VHFA in 2002, Collins has held several positions at the agency, most recently as Deputy Director, where she led the agency's core homeownership, multifamily, and information technology programs. In this role, she also developed and implemented strategic goals and business plans, maximized capital resources for VHFA programs, and developed new business opportunities. Collins has a master's degree in public administration from the University of Vermont and a bachelor's degree in English from SUNY Buffalo.
Fannie Proposes to Edit Duty-to-Serve Plan to Increase Housing Credit Investments
The Federal Housing Finance Agency (FHFA) Wednesday released a Request for Input (RFI) seeking public comments on several changes Fannie Mae has proposed to its Underserved Markets Plan for years 2018–2020, which outlines how Fannie Mae intends to fulfill its Duty-to-Serve obligations. One of Fannie Mae's proposed modifications would substantially increase its Housing Credit equity investments in rural areas. Fannie Mae is also requesting to increase its loan purchase targets for rural single-family loans originated by small financial institutions, decrease its goals for loan purchases financing the rehabilitation of distressed properties, and receive credit for purchasing or guaranteeing securities backed by chattel manufactured housing loans. FHFA will accept comments on the proposed changes until November 2. Please send any input you wish to share to Greg Zagorski by Friday, October 26.
NCSHA Supports Regulators' Rule to Classify Muni Bonds as High-Quality Liquid Assets
NCSHA this week submitted comments on an interim final rule published by the federal banking regulators — the Office of the Comptroller of the Currency, the Federal Deposit Insurance Corporation, and the Federal Reserve — that allows the large banks they regulate to count certain investments in municipal bonds, including Housing Bonds, as high-quality liquid assets (HQLAs) that will help them meet their federal liquidity requirements, subject to a discount. NCSHA expressed strong support for the interim rule, urged the regulators to quickly finalize it, and asked them to reduce the value discount banks must take on their Housing Bond and other municipal bond investments.
HUD Extends Federal Financing Bank Risk-Sharing Initiative
In a significant victory for rural communities and other areas lacking or trying to preserve affordable housing, HUD announced September 28 an extension of the Federal Financing Bank (FFB) Risk-Sharing Program for HFAs through December 31, 2018. Months of advocacy by HFA executive directors and staff led to this result. HUD will accept new applications for commitments under the FFB initiative through the end of the year, up to the current program maximum of $3 billion. At the National Association of Local Housing Finance Agencies' Legislative Conference on October 3, HUD's Acting Director for Multifamily Production, Patricia Burke, said HUD has $335 million still available for loan commitments. Burke said FHA will review FFB loan performance and market conditions to determine if the program should be extended beyond 2018. NCSHA will continue working for a longer-term extension of this critical and proven program.
Senate Small Business Committee Considers Opportunity Zones
On October 3, the Senate Committee on Small Business and Entrepreneurship held a hearing on "Expanding Opportunities for Small Businesses Through the Tax Code." The hearing focused on the recent tax reform bill's influence on small businesses and local communities, including Opportunity Zones. Senator Marco Rubio (R-FL) highlighted the need for local investment and the prosperity for struggling communities possible through Opportunity Zones. John Lettieri, president and CEO of the Economic Innovation Group, extolled the benefits of Opportunity Zones and recommended that forthcoming Treasury Department guidance provide needed clarity for potential investors.
Homeland Security Proposes New Rule to Limit Immigration for Public Aid Recipients
The U.S. Department of Homeland Security (DHS) recently announced a proposed rule that would add Section 8 rental assistance, public housing, and other programs to a list of public benefits DHS considers when it attempts to ensure that those seeking to enter and remain in the United States either temporarily or permanently can support themselves financially and will not be reliant on public benefits. Inadmissibility due to reliance on public benefits, or being a "public charge," is based on factors in immigration law and DHS's determination of the applicant's likelihood of becoming a public charge at any time in the future. After the proposed rule is published in the Federal Register, which is expected soon, the public will be able to comment for 60 days.
NCSHA, State HFA, and Industry Events
October 9 | Urban Land Institute Housing Affordability Symposium (Boston)
Stockton Williams will participate.
October 11 | Ohio Housing Council Fall Symposium
Jennifer Schwartz will participate.
October 13 – 16 | 2018 Annual Conference & Showplace | Austin, TX
October 18 | Council of Large Public Housing Authorities Fall Meeting (Washington, DC)
Stockton Williams will participate.
October 21 – 23 | National Affordable Housing Management Association's Biannual Top Issues in Affordable Housing Conference—Fall 2018
Jennifer Schwartz will participate.
October 24 – 25 | North Carolina Affordable Housing Conference
Stockton Williams will participate.
October 24 – 25 | Affordable Housing Investors Council – Affordable Housing Summit
Jim Tassos will participate.
November 7 – 8 | Indiana HCDA's Moving Forward Rural Development Workshop
Jennifer Schwartz will participate.
November 14 | Vermont Statewide Housing Conference
Stockton Williams will participate.
November 14 – 15 | Freddie Mac Affordable Housing Advisory Council Meeting
Stockton Williams and Garth Rieman will participate.
November 19 | Ballard Spahr National Housing Symposium
NCSHA staff will participate.
Legislative and Regulatory Activity