NCSHA Washington Report | May 17, 2019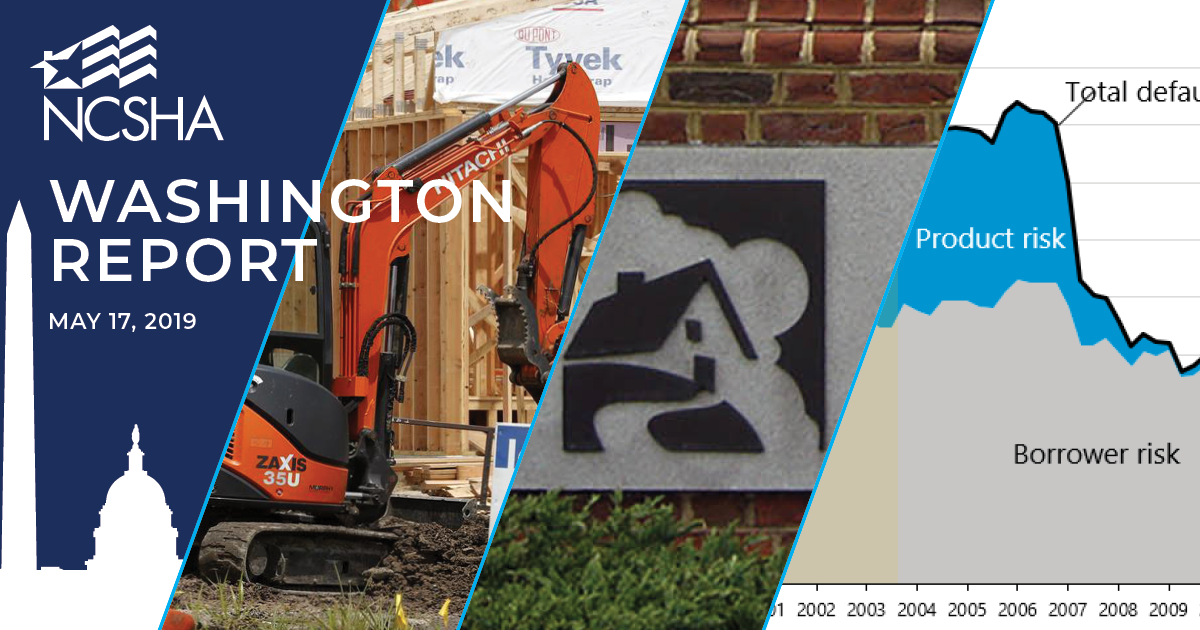 Policymakers are rightly focused on cautionary signs in the housing system driven by greater federal agency and GSE appetite for mortgage risk.
The "housing credit availability index" developed by the Urban Institute's Housing Finance Policy Center shows that mortgage credit availability through FHA, VA, and USDA was higher through the third quarter of last year than any time since 2009. The index data also show that credit through Fannie and Freddie "has been increasing steadily since the financial crisis."
FHA last month moved to mitigate its exposure some by broadening its manual underwriting of loans with riskier credit characteristics. FHA estimates the changes will impact 4 – 5 percent of annual FHA-backed originations, about 40,000 – 50,000 mortgages.
New FHFA Director Mark Calabria has honed in on the issue in his first few weeks on the job as well. Under an exception to the CFPB's "Qualified Mortgage" rules that expires at the end of next year, Fannie and Freddie are able to back loans to borrowers with debt-to-income (DTI) ratios above 43 percent. This "GSE patch" resulted in 3.3 million additional originations between 2014 and 2018, according to the Urban Institute.
In an interview last month with American Banker:
Calabria said there should be one set of rules in place before the patch expires in 2021…But he drew a red line at suggestions by some that the patch merely be extended. "If we had to extend the QM patch, I would consider that to be a failure on the part of Washington regulators," he said.
Risk inherent in lending to more leveraged borrowers may be exacerbated when they are buying in severely supply-constrained housing markets, as exist widely today. Ed Pinto of the American Enterprise Institute's Center on Housing Markets and Finance argues, "house prices are going up in places with the highest risk, and one of the reasons is because of high DTIs." Pinto notes that entry-level home prices are up 55 percent since 2012, to an average of about $160,000 last year.
And, as a recent paper from Mike Stegman summarizes, the admittedly "thin" empirical evidence might suggest "down payment assistance compounds the credit risk of low-down payment lending."
These appropriate expressions of concern also benefit from context. Citing their aforementioned credit availability index, Urban Institute researchers point out even a doubling of all default risk would still bring the total amount across the system to the pre-crisis standard of 12.5 percent that existed from 2001 – 2003. "Significant space remains," they write, "to safely expand the credit box."
And not all low-down payment programs and providers are created equal. The best available evidence suggests state HFAs are prudently managing risk, while expanding their efforts to provide affordable housing opportunity for lower-income households. As a result, they are ever-more important partners to all the congressionally-created agencies charged with similar statutory responsibilities.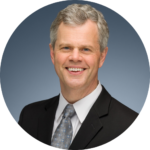 Stockton Williams | Executive Director
---
In This Issue
---
Altoro Appointed WHEDA Executive Director
On May 14, Wisconsin Governor Tony Evers announced he has appointed Joaquin Altoro to serve as executive director of the Wisconsin Housing and Economic Development Authority (WHEDA). Altoro currently serves as vice president of commercial banking for Town Bank. Governor Evers' press release describes Altoro's strong background in establishing and enhancing public and private partnerships, working with diverse neighborhoods to serve their unique economic development needs, and advising community development projects. He replaces Wyman Winston, who was appointed by former Governor Scott Walker in late 2010. Altoro will assume his new role at WHEDA on June 3.
Cunningham Appointed to HUD Housing Counseling Advisory Board
Louisiana Housing Corporation (LHC) Executive Director Keith Cunningham was chosen Thursday to join the Housing Counseling Federal Advisory Committee (HCFAC). Cunningham, who has worked at LHC for 10 years and served as executive director since January 2017, is one of seven new HCFAC members HUD appointed this week. HCFAC advises HUD's Office of Housing Counseling on its services and programs.
House Passes Flood Insurance Program Extension
The House of Representatives Tuesday passed H.R. 2578 to reauthorize the National Flood Insurance Program (NFIP) through September 30. NFIP's current authorization is set to expire on May 31. The legislation was introduced by House Financial Services Committee Chair Maxine Waters (D-CA) and Ranking Member Patrick McHenry (R-NC), who pledged when introducing the bill to work together on a long-term reauthorization of NFIP that would include reforms to improve the program's sustainability. The bill will now be referred to the Senate, which is expected to take it up before the end of the month.
HUD Announces New Incentives for Multifamily Developments in Opportunity Zones
HUD's Office of Multifamily Housing Programs last week announced new incentives — including reduced application fees and designated senior underwriters — for property owners using certain FHA multifamily mortgage insurance products for properties located in Opportunity Zones (OZs). According to HUD's Notice H 2019-07, property owners applying for Section 221(d)(4), Section 220, and Section 223(f) mortgage insurance programs are eligible. These incentives are available immediately for market-rate properties that have not yet submitted a pre-application, and for affordable properties that have not yet applied for FHA mortgage insurance.
HUD Publishes Pay-for-Success Funding Announcement
On May 8, HUD's Office of Multifamily Housing Programs released a 60-day notice of proposed information collection regarding the application requirements for a pilot Pay for Success-style demonstration program to improve energy and water efficiency in up to 20,000 units in HUD-assisted multifamily properties. The pilot program, authorized by the Fixing America's Surface Transportation Act of 2015, allows HUD in Fiscal Years (FY) 2016 through 2019 to enter into budget-neutral performance-based agreements with designated intermediaries that result in energy and water cost reductions in eligible properties.
HUD is seeking comments by July 8. Given this timing and that FY 2019 ends on September 30, it is unclear whether HUD will have enough time to issue a NOFA and enter into cooperative agreements to implement the Pay-for-Success pilot before current authorization expires.
Fannie Mae Holds 9th Annual HFA Summit
Fannie Mae this week held its 9th annual training summit for HFAs who partner with Fannie Mae to support affordable homeownership. NCSHA's Stockton Williams and Greg Zagorski participated in the summit, along with staff from 24 state HFAs, local agencies, and HFA industry partners. Attendees received updates from top Fannie Mae officials about potential changes to the HFA Preferred products, Fannie Mae's servicing systems, efforts to promote diversity in the housing finance workforce, credit risk management, and Fannie Mae's Sustainable Communities Innovation Challenge. The meeting also featured HFA and industry discussions about the digitalization of mortgage lending and increasing affordable for-sale housing.
NCSHA in the News
Talking Heads: Stockton Williams, Executive Director, National Council of State Housing Agencies (Tax Credit Advisor, paywall)
Legislative and Regulatory Activities
NCSHA, State HFA, and Industry Events
May 20 | HUD's Real Estate Assessment Center & Multifamily Housing Industry Day
Althea Arnold will participate.
May 20 – 21 | North Dakota Housing Finance Agency Statewide Housing Conference | Bismarck, ND
Stockton Williams will speak at this event.
May 23 | Freddie Mac Affordable Housing Advisory Council Meeting
Garth Rieman will participate.
May 30 – June 5 | National Housing Week of Action
June 1 – 5 | Innovative Housing Showcase | National Mall, Washington, DC
June 5 | National Association of Affordable Housing Lenders' 2019 Annual Policy & Practice Connect | Washington, DC
Jennifer Schwartz will speak at this event.
June 11 – 14 | NCSHA's Housing Credit Connect 2019 | San Francisco