NLIHC Report Finds Pandemic Further Increases Housing Instability Risk for Low-Wage Renters

On July 14, the National Low Income Housing Coalition (NLIHC) released Out of Reach: The High Cost of Housing, its annual report documenting the gap between renters' wages and the cost of rental housing across the nation. NLIHC's 2020 report concludes that the economic downturn spurred by the coronavirus further increases the risk of housing instability for millions of low-wage renters who were struggling to make ends meet before the pandemic.
The report calculates the "Housing Wage" a full-time worker must earn to afford a rental home without spending more than 30 percent of their income on housing costs. This year's national Housing Wage is $23.96 per hour for a two-bedroom home at fair market rent and $19.56 per hour for a modest one-bedroom rental home. In no state, metropolitan area, or county can a full-time, minimum-wage worker afford a modest two-bedroom rental home, and that same worker can afford a modest one-bedroom rental home in only five percent of U.S. counties.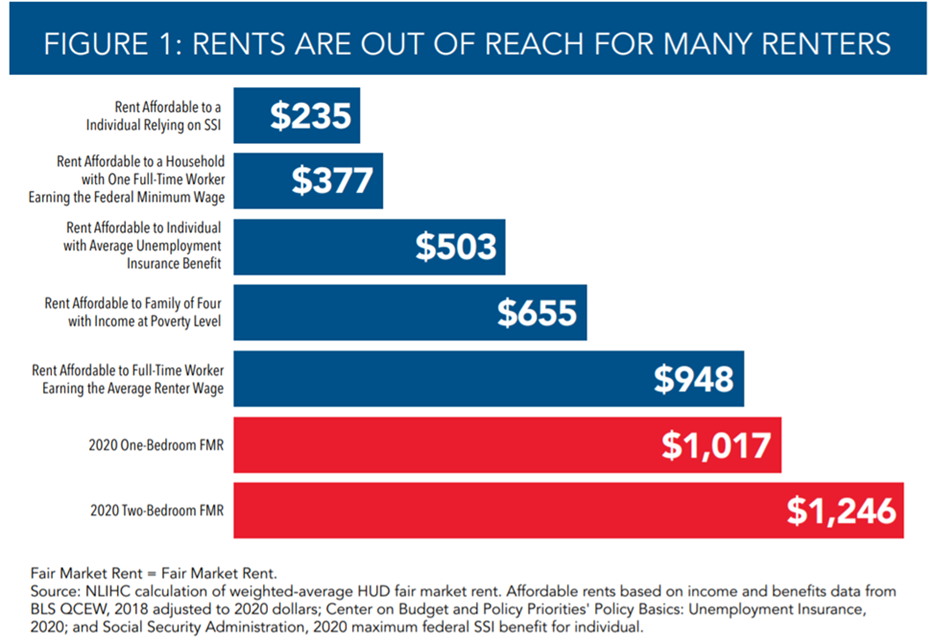 The massive wave of unemployment caused by the COVID-19-related economic downturn further undermines workers' access to and retention of decent, stable housing. Nearly 28 million U.S. workers filed claims for unemployment insurance in the first six weeks of widespread business closures. While the national unemployment rate decreased from 14.7 percent in April to 13.3 percent in May, the report highlights that unemployment rates did not improve among people of color, further increasing longstanding racial disparities.
The report cautions these trends will worsen without significant investment in affordable housing solutions, including in the National Housing Trust Fund, Housing Choice Vouchers, and public housing, to address long-term affordability challenges. NLIHC calls for investment in emergency rental assistance—one of NCSHA's top COVID-19-related legislative priorities—and supports a national eviction moratorium.
Report data is available for every state, metropolitan area, and county on NLIHC's website.
---