NCSHA Releases Updated Model Housing Credit Compliance Forms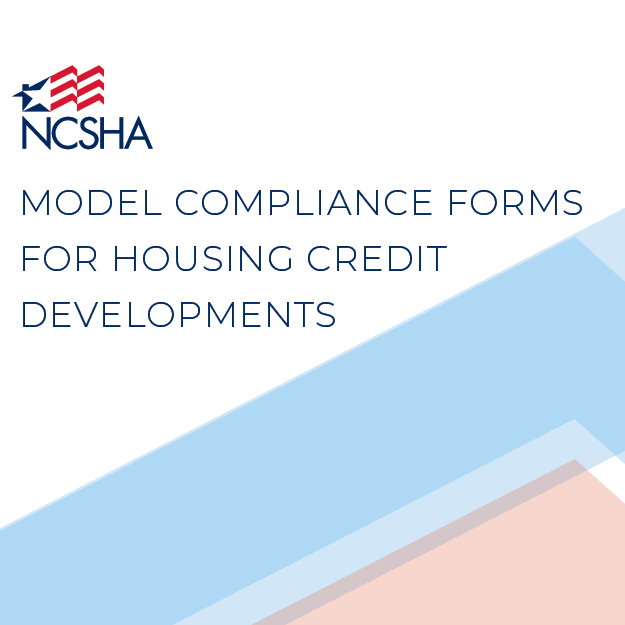 Today, NCSHA released revamped model forms for Housing Credit compliance monitoring, developed in collaboration with its members and stakeholders. NCSHA's Recommended Practices in Housing Credit Administration encourage Housing Credit agencies to adopt model forms, which help standardize compliance monitoring practices across states and create efficiencies for development owners and other Housing Credit industry professionals.
Available on NCSHA's website, the updated Model Compliance Forms include:
Owner's Certification of Continuing Program Compliance
Tenant Income Certification
Employment Verification
Certification of Zero Income
Under $5,000 Asset Certification
Student Self-Certification
Student Status and Financial Aid Verification
The revisions address legislative and regulatory changes in the Housing Credit program since the forms were first developed — including the Average Income Test minimum set-aside, student rule exemptions, and application of the Violence Against Women Act — and provide greater clarity for properties undergoing a resyndication of Credits.
The updated forms also reflect the evolution of our modern economy, incorporating new questions about tenant income from self-employment in the gig economy or crowd-funding platforms like GoFundMe, for example. In addition, NCSHA has streamlined the forms and improved their functionality.
State Housing Credit agencies may adapt the forms to their individual circumstances as needed.
For more information, contact NCSHA's Jennifer Schwartz or Jim Tassos.