Wyoming's Home$tretch Down Payment Assistance Program Wins National Award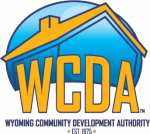 CASPER, WY —Wyoming Community Development Authority's (WCDA) Down Payment Assistance loan product, Home$tretch, received a national award at the National Council of State Housing Agencies (NCSHA) annual conference in Denver, CO on October 16, 2017.
Home$tretch received the annual award for program excellence in the Homeownership: Empowering New Buyers category. This award recognizes Housing Finance Agencies whose programs best provide homeownership financing to targeted customers.
WCDA launched Home$tretch in March 2016 as a 0% interest and no monthly payment financially responsible down payment assistance loan product for borrowers. The product allows homebuyers to borrow up to $10,000 for their down payment and closing costs with as little as $1,500 down. The loan is then due on sale or refinance or a 30-year maturity.
Home$tretch can be utilized with WCDA's First-Time Homebuyer Program.
In 2017, WCDA helped 907 families achieve their dream of homeownership. Of those families, 605 (66%) utilized the Home$tretch Down Payment Assistance loan program.
WCDA will continue to empower borrowers with financially responsible loan options.
For more information on WCDA's Home$tretch Down Payment Assistance loan product, please visit www.wyomingcda.com or call 307-265-0603