Social Media Users Help CHFA Donate $4,043 to Sweet Dream in a Bag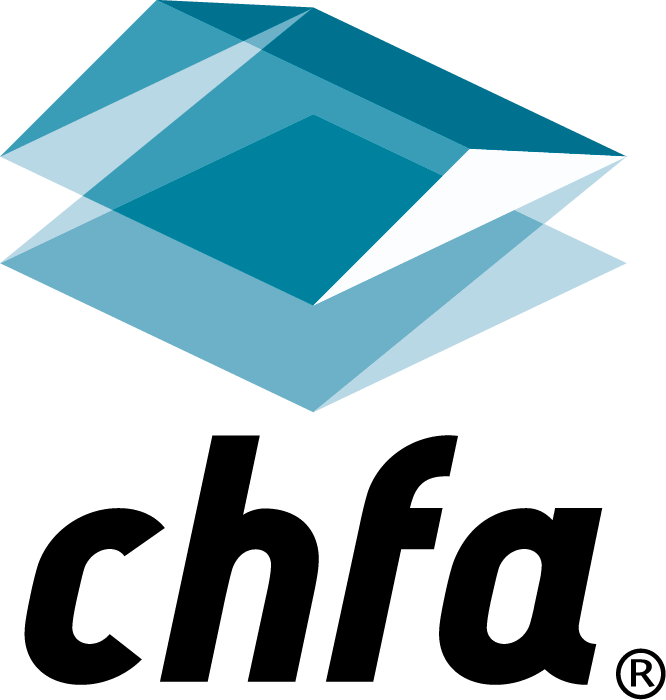 DENVER, CO — Colorado Housing and Finance Authority (CHFA) was pleased to donate $4,043 to Sweet Dream in a Bag, a local nonprofit that comforts children in poverty with gifts of brand-new bedding. The donation was the result of a three-week long social media campaign CHFA promoted called "Like It Forward." which invited users to "like" and "share" posts related to Sweet Dream in a Bag. CHFA donated one dollar for every "like" and five dollars for every "share."
In Colorado, nearly 24,000 youth are homeless, and more than 180,000 children live in poverty. Since 2010, retired couple Susie and Wayne Fox, have operated Sweet Dream in a Bag, gifting new bedding packages to more than 8,800 Colorado children. The organization works with more than 50 agencies to identify children in need, and coordinates gifting events during which each child is invited to choose a bedding set of their own.
CHFA staff, Sweet Dream in a Bag founders, and Miles from the Denver Broncos, pack new bedding gifts on December 8 as part of CHFA's Like It Forward 2017 campaign. "Many of the children Sweet Dream serve have had to leave their possessions behind during various living transitions, and they simply have few choices. When they get to choose their new bedding through our program, it is very personal and comforting to them. Case workers and teachers tell us the children getting new Sweet Dream bags feel better about themselves and are doing better in school," said Susie Fox. "Sweet Dream is so thankful for the caring and partnership CHFA has shown to benefit these children."
As part of CHFA's campaign this year, CHFA hosted a packing event with Sweet Dream in a Bag to produce new bedding packages. More than a dozen CHFA volunteers, and special guest, Miles the Mascot of the Denver Broncos, worked together to assemble 50 new bedding packages, which were distributed at a later gifting event.
"A large part of CHFA's mission is investing in affordable housing, so being able to help children who are in challenging housing situations is an honor for us," said Cris White, executive director and CEO of CHFA.
In its third year, Like It Forward 2017 was the most successful campaign to date, reaching the most people and raising the most money compared to previous years. Like It Forward 2017 was promoted from November 27 through December 17 on Facebook, Twitter, Instagram, CHFA's website, and in various CHFA communications.

About CHFA
CHFA strengthens Colorado by investing in affordable housing and community development. Created in 1973, CHFA invests in loans to low- and moderate-income homebuyers through our network of participating lenders, and makes loans to affordable multifamily rental housing developers and small and medium sized businesses. CHFA also provides education and technical assistance about affordable housing and economic development. CHFA is a self-sustaining public enterprise. CHFA issued debt is not the obligation of the state. For more information about CHFA please visit www.chfainfo.com, call its Denver office at 1.800.877.chfa (2432), or its Western Slope office at 1.800.877.8450.
About Sweet Dream in a Bag
Sweet Dream in a Bag is a 501 (c)(3) public charity whose mission is to gift children living in poverty with new bedding packages. All administrative costs are donated by the organization's founders, therefore, 100 percent of donations go directly towards the purchase of children's new bedding gifts. Bedding packages consists of an exciting new twin comforter, pillow, twin sheet set, twin fleece blanket, tooth brush and tooth paste, wooden toy, personalized book, and a stuffed toy. Sweet Dream in a Bag operates with the help of more than 500 volunteers, and works with more than 50 Colorado agencies to distribute gifts to children in need. To learn more, please visit www.sweetdreaminabag.org