Partner With Us
Leverage the Power of Brand Association
Partner with NCSHA to reach the affordable housing community's decision-makers.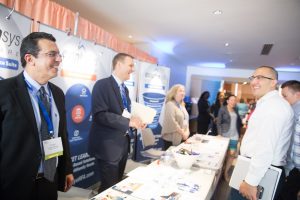 Get engaged in NCSHA's conferences to increase your organization's visibility, generate new leads, connect with potential clients, and demonstrate support for your established clients. You will maximize the return on your investment of marketing dollars by showcasing your services, products, technologies, and initiatives in front of this targeted audience of leaders responsible for finding solutions to the affordable housing community's business challenges.
Sponsor, exhibit, and advertise during NCSHA's conferences to benefit from:
networking with executive directors and staff from the nation's HFAs
increased awareness of your brand with this target audience
opportunities to cultivate new and existing relationships face to face—the most effective method for developing a loyal client base
first-hand knowledge of the business challenges and issues your clients are facing
professional development for you and your team in the latest best practices and trends in affordable housing, delivered by leading practitioners, industry experts, and thought leaders
---
Advertise
Reinforce your brand with the affordable housing industry's top executives and decision-makers by advertising in the conference program guide distributed to all attendees on site. The program is THE guide to the entire conference: It includes the agenda, showplace and hotel maps, and exhibitor profiles. Attendees refer to the program guide throughout the conference and take it back to the office as a reference.
Please contact Kimberly Carr for more information.
---
Exhibit
Do you have a product, service, technology, or initiative you want to introduce to NCSHA's audience? Consider exhibiting at an NCSHA conference, where you will network with current and potential clients, hear their challenges and issues first hand, and cultivate critical business relationships.
Please contact Kimberly Carr for more information.
NCSHA Member: $3,150
Nonmember*: $4,350
NOTE: The Platinum and Gold Sponsorship packages include premium exhibit space.
The Exhibitor Package includes:
One (1) 10' x 8' exhibit space, with 8'-tall back drapes and 3'-tall side drapes
One (1) 6' draped table
Two (2) chairs
One (1) wastebasket
One (1) exhibitor ID sign
Overnight in-hall security
Two (2) exhibitor-only registrations, which include meals and social functions that take place inside the tradeshow, with the option to upgrade to a discounted full registration (restrictions apply; inquire for details)
40% discount on advertisements placed in the conference program guide distributed to all attendees on site
Exhibitor's logo, profile, and contact information published in the conference program guide
Exhibitor's logo and profile (including company description and contact information) posted on NCSHA's interactive tradeshow map
Use of pre- and post-conference attendee direct-mail lists
Priority booth selection for NCSHA's 2019 conferences
*Interested in Becoming an NCSHA Member?
Contact NCSHA's Phaedra Stoger at 202-624-7710 ormembership@ncsha.org.
Set-up Window: October 14, 2018, 9:00 a.m. – Noon
Occupation Time:
October 14, 2018, 2:00 p.m. – 5:00 p.m.
October 15, 2018, 7:30 a.m. – 6:30 p.m.
Break-Down Window: October 16, 2018, 7:00 a.m. – 10:00 a.m.
---
Sponsor
As a high-level NCSHA sponsor, your organization is featured throughout the conference. The following packages can help you connect with attendees, generate leads, and achieve your marketing objectives. Packages can be customized to meet your needs.
Partnership Levels
The sponsorship packages include the following benefits PLUS the benefits listed below each level:
Sponsor's logo and website link posted on the NCSHA conference web page
Sponsor's logo published in the conference program guide distributed to all attendees on site
Sponsor's logo included on prominent conference event signage
Pre- and post-conference attendee direct-mail lists
Recognition from the podium during the conference plenary sessions
"Sponsor" name-badge ribbons for sponsor's staff in attendance
Access to the NCSHA logo for inclusion on the sponsor's website and printed collateral (with NCSHA's pre-approval)
Platinum: $20,000
Four complimentary full conference registrations
Four invitations to the Leadership Circle Reception with HFA executive directors and board members and top affiliate supporters
One double or single exhibit booth in a premium location in the tradeshow (dependent on availability)
One full-page interior ad in the conference program guide
Sponsor's logo printed in the registration brochure, mailed to NCSHA members and prospective attendees (dependent on signing date and print deadlines)
Inclusion of sponsor's logo in pre- and post-event emails sent to prospective and registered attendees (number dependent on signing date)
Pre- and post-conference attendee email lists
Gold: $15,000
Three complimentary full conference registrations
Three invitations to the Leadership Circle Reception with HFA executive directors and board members and top affiliate supporters
One single exhibit booth in a premium location in the tradeshow (dependent on availability)
One full-page interior ad in the conference program guide
Sponsor's logo printed in the registration brochure, mailed to NCSHA members and prospective attendees (dependent on signing date and print deadlines)
Inclusion of sponsor's logo in pre- and post-event emails sent to prospective and registered attendees (number dependent on signing date)
Silver: $10,000
Two complimentary full conference registrations
Two invitations to the Leadership Circle Reception with HFA executive directors and board members and top affiliate supporters
One half-page ad in the conference program guide
Sponsor's logo printed in the registration brochure, mailed to NCSHA members and prospective attendees (dependent on signing date and print deadlines)
Inclusion of sponsor's logo in pre- and post-event emails sent to prospective and registered attendees (number dependent on signing date)
Bronze: $5,000
One complimentary full conference registration
One invitation to the Leadership Circle Reception with HFA executive directors and board members and top affiliate supporters
A 40% discount on advertising in the conference program guide
Affordable Housing Friends: $3,500
A 40% discount on advertising in the conference program guide